Blessings of Lammas to you all! Summer is a very busy time in the media witch's world, because I work outdoors in summer as a gardener. I love this work as it keeps me in touch with nature's changing rhythms, colors, textures and perfumes, and helps keep me sane for the long winter indoors when I tend to work in offices and classrooms. But summer is also the time of exciting new developments in the movies and television programming, so here are a few things that I'm keeping an eye on.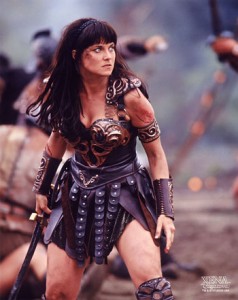 First off, maybe you've heard rumors about the XENA: WARRIOR PRINCESS reboot? And that star Lucy Lawless may or may not be involved? Even though it was a spin-off from HERCULES, there was something unique and appealing about XENA that seemed to draw in bigger audiences. It featured badass women who were strong, sexy and able to pretty much outsmart or outfight any jerk that got in their way. But Xena and her sidekick Gabrielle weren't just fighters for the sake of fighting: that'd be an easy stereotype. No, they sought to bring harmony and justice to everyone they encountered. If you never watched this show, do yourself a favor and check it out before the reboot ruins it for you. If in fact, the reboot ever happens. You never know with Hollywood, AMIRITE?
Here's a thing: your humble blogger LOVES everything about XENA. Back when I was working with Fritz and Wren on the early days of The Witches' Voice, we hung out together a lot in their Medford, MA apartment. And we watched XENA with something approaching religious fervor. We very nearly used the URL "xenarules.com" instead of "witchvox.com." As it was, we told many people "The 'x' stands for "Xena Rules!" The show's pagan imagery and sensibility was just wonderful during a time when we weren't seeing too much of that on TV. There were gods and goddesses featured in a number of episodes, including Aphrodite, Ares, and others. And let's not forget all the lovely eye candy! Or that hot tub scene (one of Fritz's favorite moments to be sure)! Check out one of my reviews from back in the day. This Australian production (yes, it was filmed in Australia, well, actually, New Zealand, by an American director) certainly had an impact on many shows that came afterwards, too, if only because of the inimitable and ground breaking costume design, which combined elements of Renn Faire, goth, WWF and maybe even steampunk before there was a word for steampunk. But there is no denying the "badass sexy lady asskicker" is a character modeled on XENA. Without her, BUFFY THE VAMPIRE SLAYER would never have existed. And certainly not the likes of Lara Croft, et al.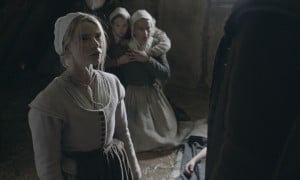 There's also a new indie film that's getting positive reviews at film festivals, to be released by up and coming studio A24 (who gave us SPRING BREAKERS, EX MACHINA, LOCKE, and UNDER THE SKIN, among many other fine films) in early 2016. It's called THE WITCH and is directed by Robert Eggers, who following this celebrated debut, is slated to direct a remake of NOSFERATU. According to one reviewer, THE WITCH is a sort of horror genre response to Arthur Miller's play THE CRUCIBLE, "placing…old tropes in an even older world—one archaic in speech, dress, and philosophy—director Robert Eggers somehow makes them feel new again." There's more witchy and pagan media happenings afoot, so stay tuned as I will be catching up on all the announcements and rumors in the next couple of days! Until the next blog post, Happy Lammas and enjoy your harvests…