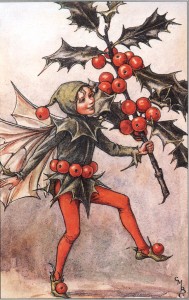 Many pagans and witches enjoy seasonal music, but Yuletide is a special conundrum. There is so much wonderful traditional music out there, full of nature imagery, holly, ivy, running deer, starlight, snow, etc. But it's generally still regarded as Christmas music. There are a few modern songs written for Yule, but some of them are kind of goofy (like Dar Williams' "The Christians and the Pagans" which is clever and cool as a social statement, but not terribly melodic or evocative as a piece of music).
I thought I'd share some of my favorite songs from this time of year that you may not have heard. First, an old favorite from Maddy Prior's solo album "Year" (yes, the Maddy Prior of Steeleye Span). "Red and Green" is purely about the sights and sounds of nature at winter solstice. "Red and green together be seen in the dark time of the year…"
Magna Carta was an arty prog-rock (or is it psych-folk? same difference, really) from the 1970s who recorded several great albums. Their song "Midwinter" is a lilting, haunting song, beautiful arranged and performed, about the beauty of the season. "Child of the Sun, would you go where the wind blows?…white on white, the snow slowly falling…soft and low, the east wind speaking in midwinter…"
Then there's "Traveller's Prayer" recorded by John Renbourn's group The Voice Squad (including Irish singer Triona ni Dhomnaill on vocals). It's a soulful hymn to the moon, particularly pertinent this year as the full moon will be shining brightly on Christmas night. "Praise to the moon, bright queen of the skies…"
Happy listening and bright blessings of the returning light!