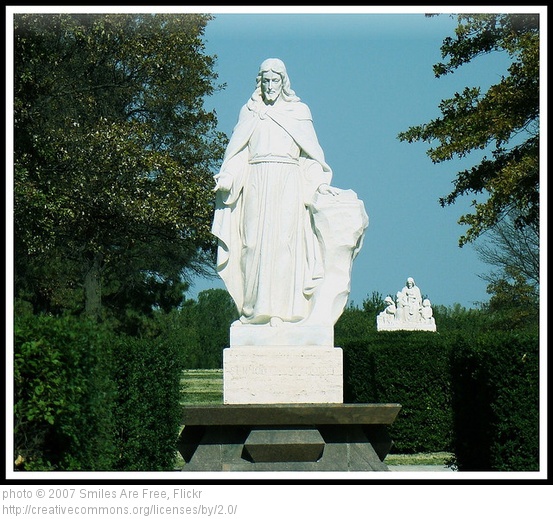 The Sermon on the Mount is the central text for Anabaptist communities of faith throughout the past several hundred years. Those claiming an Anabaptist spirituality place Jesus at the center of their grid of interpretation and his longest Sermon at the center of his call to discipleship.
As we all know, the cost of living out the Sermon is great. I'm not simply referring to the controversial teachings such as nonviolence and enemy love, but other central discipleship issues such as: marital fidelity, integrity, sincere prayer, deferring judgment to God, concern for the poor, and ultimately praying that God's kingdom would come "…on earth as it is in heaven." The Sermon is Jesus' invitation to know God's perfect love so well that the impulses of Christ become our own. This is not merely an ethic of obedience, but an invitation into a relationship that transforms our character to match the virtues of Jesus himself.
A book that brilliantly captures the essence of the Sermon on the Mount is called: The Cost of Community – Jesus, St. Francis and Life in the Kingdom. If I were to recommend one book on the Sermon, this would be that book!
First, the author, Jamie Arpin-Ricci, is a friend of The Pangea Blog, so promoting this book makes me glad on a personal level.
Second, his unique insights to one of the great saints of history, St. Francis, contribute uniquely to his exploration of the Sermon. I'm thoroughly impressed with the life of Francis and how the life of Jesus inspired him to live a life modeled after Matthew 5-7. Certainly, as Jamie lets readers know, Francis had his flaws. Legalism crept into his life at times. Yet, as a whole, his life is one that is worthy of emulation. Just as Paul could say "follow me as I follow Christ," the same could be said of this saint.
One of many interesting stories about St. Francis comes about after both the rich and the poor begin to want to join up with his followers. Because of his newfound connection to wealthier folks, he would find himself in scenarios where a feast was prepared in his honor. Well, Francis had committed his life to impoverished simplicity but also wanted to be hospitable to his rich friends. So, how did he solve this dilemma? St. Francis kept a baggy full of ash on his person. After thanking his friends for a feast fit for kings and queens, he would bless God for the food. Then, out came the ashes to be sprinkled all over the food. Jamie tells us that, "Francis sought to free himself from any craving that might distract from his primary hunger for God and his kingdom" (66).
Third, Jamie takes Scripture and Jesus seriously as he carefully articulates the meaning of the Sermon on the Mount, both in the first century and today. He utilizes excellent scholarship and translates these into a language that regular readers can grasp. I always appreciate learned books that are accessable.
Finally, this book tells several stories of how the Sermon on the Mount has impacted his life and the ethos of his intentional community/church, Little Flowers. Story after story touched my life as I read, causing me to want to emulate elements of Little Flowers as I seek to plant a church in the near future. Some moments will make you smile, others will make your eyes water up. This book demonstrates beautifully what it looks like to live out the Sermon. This is lived theology at its finest!
I wholeheartedly recommend this book. The Cost of Community should be the first book about the Sermon on the Mount that you read. It also is a book that small groups, missional communities, and other gatherings of Christ-followers ought to read and discuss as they discern the next steps toward counting the cost of following Jesus by living out the Sermon.
Do you know of any examples of church communities that are embodying the Sermon on the Mount in a unique way? Tell us some of your stories about this passage!
Author Interview
1. How long did you ponder the idea of writing this book? This was your first book, so what was the process like as you became an author? What advice would you give to new / aspiring authors?
While I have been a writer for many years (largely for newspaper), this book represents my first book entirely written by me. It was a dream long in the making. I had been pondering a book on St. Francis for well over a year, but didn't have something compelling enough (at least by my standards). Around that time, our church, Little Flowers Community (www.littleflowers.ca) started a series exploring the Sermon on the Mount. And I started blogging it. Adrianna at IVPress had been encouraging me to write a proposal, so when she saw the series, she suggested I put it forward. I hesitate, then went forward with it. It came together beautiful as a product of community hermeneutics and experimentation.
A lot of people want to write books. I wouldn't discourage anyone from writing, but I would say this: If you are true writer, you will write regardless of whether a word of it every gets published. A true writer writes because they must. That's the starting point. Much more could be said, but that is the list topper. So, WRITE!
2. A commendable element of this book is that it gives access to a rich theology of the Sermon on the Mount while also modeling a lived theology in community. What areas of "living this out" have you been most encouraged by in your church/intentional community? What areas do you see as "growth areas" for your community?
There are so many! In many ways, though, the book is the product of the best (which I mentioned above). While I am the primary pastoral leader in our church, my teaching is significantly a facilitation of conversation, questions and reflection. We are a multi-voiced church, as some call it. Simply saying that doesn't do it justice. You have to remember that those voices include people who would otherwise not darken the doorway of the typical church.
Another aspect is the sense of experimentation. Gandhi referred to his life as "experiments in truth". This is how we engaged the Sermon on the Mount (and all of Scripture, for that matter). We consider the implications of what a given teaching might mean for our lives, then we sick to live into that change. Some times it works, other times it flops. Either way, we learn, we grow and we continue. It is a beautiful mess!
Areas of growth? There are so many! We are far from perfect. A core area we have been trying to work on is being more intentional about making missionality the organizing core of who and what we are (something Michael Frost inspired us to focus on). What we do really well is form genuine, intimate and vulnerable community. However, there is always the risk of becoming insular. So when we consider dynamics like worship, spiritual formation or even being community, we intentionally ask ourselves what that would look like if mission was the organizing core for all those things. It is not easy. One day at a time!
3. How did you come to love St. Francis like you do? A Mennonite – Catholic blend (okay, Anglican) might seem a bit counter-intuitive to some folks, so can you explain a bit about this unique fusion of faiths?
I came to be curious about Francis through the oft quoted line, "Preach the gospel at all times. When necessary use words." Of course, he never actually said that, but it was enough to draw me in. Where Francis & Anabaptist largely intersect is the Sermon on the Mount- or more broadly, the commitment to live the teachings of Jesus as explicitly as possible as a community of disciples. Many early Anabaptist leaders were Franciscans. So the fit is not that much of a stretch.
You mention Anglicans. I assume this is drawn from the C.J. you see following my name on the cover of the book. Those letters stand for The Company of Jesus, an ecumenical third order under the Anglican rite. On publication of the book, I was a vowed member of the Company of Jesus, but sadly that is no longer the case. It became increasingly clear that certain points of belief and practice that I held were points of conflict with the Anglican leadership of the order. I respectfully withdrew from the order rather than placing them in the uncomfortable position of having to give me the left foot of fellowship. I am sad that they felt such an issue of worth of division, but I respect their right to make that choice. So, all that to say, the C.J. is gone, as is any formal connection to the Anglican church.
4. Have you felt as though that your book has been embraced by Christians outside of the so-called "progressive" evangelical/Anabaptist world? If so, why? If not, why not?
The book has received a fairly wide readership with a lot of good responses. I would say it has been received well in the wider evangelical community, though one very respectful critic took it to task for certain points. However, they were points of fundamental difference between Reformed theology and Anabaptist theology, so that was to be expected too. In the end, I have heard a fair amount of positive responses, so I can only hope that means it is widely accepted.
I do wish it would get more of a reading in the typical evangelical church community. This book is a very direct exposition of Scripture, something that I found deeply important to the overall book. This comes from the rural evangelical upbringing for which I am very, very grateful. However, I think some people might get turned off by what they perceive as a "Catholic" title and/or cover image. Also, some might think that this book is for and about new monasticism. While there is that aspect of things, I deeply believe this book is relevant and important to any and every context.
5. What would you love to see happen in the lives of Christian communities as a result of reading this book, if your ultimate dream could be accomplished?
I would love to see people collectively take more seriously the explicit teachings of Jesus on how to live. Jesus is taken seriously, without question, but often He ends up being a Saviour to be worshiped without being a Master to be obeyed. Christians need to rediscover how costly and radical thing it is to take the name Christian. This isn't about earning grace or being motivated by obligations, but rather it is about people reclaiming the passionate faithfulness of what it means to follow Jesus.
I hope the book is disruptive- not for its own sake, but because it leaves people desperate for something more, something truer. And I hope they do it together! This is not a lone ranger book. It is about community- a community that, in obedience to Christ and by the power of His Spirit becomes His present Body in a broken world.
About the Book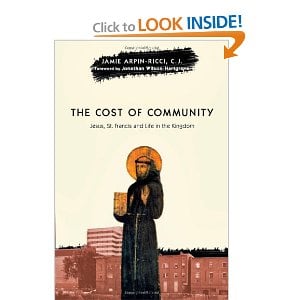 FROM THE BACK COVER:
Blessed are the poor in spirit . . .
So begins the Sermon on the Mount, Jesus' great message to everyone with ears to hear. St. Francis of Assisi heard its message and challenged the church and empire of his day by ordering his life around it–giving up his power, wealth and privileges; claiming the poor and powerful alike as his brothers and sisters; and loving Islamic neighbors even as his church and state waged war on them.
Centuries later, Jamie Arpin-Ricci and his friends and neighbors in the new monastic community of Little Flowers in urban Winnipeg likewise heard Jesus' message and ordered their lives around it. This book is Jamie's field report, offering surprising insights about what life together in the spirit of Jesus' teachings offers us, and what it demands of us.
The sermon still rings out today, offering perplexing encouragement and at times daunting challenges to us and our neighbors. Will you hear what Jesus has to say?
About Jamie Arpin-Ricci
Having spent nearly 20 years living in missional communities throughout Canada & the US, Jamie Arpin-Ricci brings his experience as a pastor and missionary to his passion for teaching and writing. Arpin-Ricci, along with his Australian wife & Ethiopian son, share life in inner city Winnipeg, Canada, where he pastors Little Flowers Community, an innovative missional church. He also serves as co-director of Youth With A Mission Urban Ministries Winnipeg. He is currently developing a new low-income housing community with supports for people with mental health challenges called Chiara House.
Arpin-Ricci's study of the life of St. Francis of Assisi and practice of Franciscan spirituality has deeply impacted his life, ministry and writing.