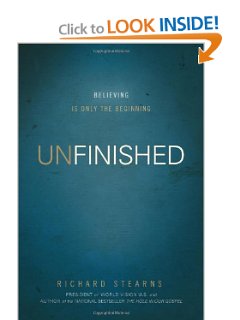 Rich Stearns is someone I first became familiar with through the book The Hole in our Gospel. In it, he advocates for the church's role amongst the poor and marginalized throughout the world.
He now has come out with a new book, Unfinished: Believing is Only the Beginning. The flow of the book goes something like this:
God has invited you to join him in changing the world.
God has a dream for this world that Jesus called the Kingdom of God.
God created you to play an important role in his Kingdom vision.
You will never find your deepest purpose in life until you find your place in building God's Kingdom.
These aims certainly line up with what Rich Stearns has devoted his life to as the president of World Vision US. This is the largest humanitarian organization in the world, one that I gladly endorse along with Mennonite Central Committee and Compassion International.
One thing that I think is good about a book like this is the way in which it gives American Christians a reminder that believing in Jesus is not the point… it's the start of an unfolding journey of love.
Stearn states:
I believe there is a direct connection between the unfinished work of God's kingdom and our sense of feeling incomplete in our Christian faith because there is a connection between our story and God's story. If we are not personally engaged in God's great mission in the world, then we have missed the very thing he created us to do. We are like birds meant to fly but living in a cage, fish meant to swim but floundering on the beach. It makes sense when you think about it. If the Author of the universe created us to play a key role in his unfolding drama, but we have failed to find our place in that story  then of course we would feel incomplete. But it doesn't have to be this way (xxi).
These words resonate with me in a deep way and my guess is that many of you desire, more than anything, to find your unique place in that story. If that is so, then check out this opportunity…
Win a free copy of this book!
All you have to do is leave a comment on this blog post in which you affirm that you shared this blog post on either FB or Twitter. Then, simply make sure that you signed in to comment with an email address that you check regularly so that I can get ahold of you. 
This contest will run through the weekend. I am giving away 4 copies!!!!!!!!