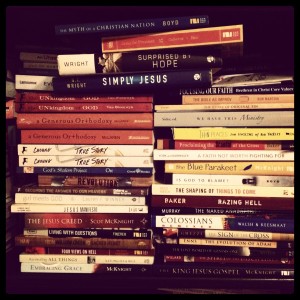 As most of you know, I recently moved to Seattle to lead a church plant. We have a fabulous Core Team and Launch Team… one that continues to grow in depth and relational connections. What's fun is seeing the surprising ways in which God is already at work in our church. [check out our website: http://PangeaCommunities.com]
Some of you probably know about our (for lack of a cooler sounding title at the moment) associate pastor, Brett Thatcher. He's a gifted musician, writer, and leader who literally lives in my backyard (in the converted garage which serves as a nice studio apartment).
One thing that is always energizing is our conversations over the books that we read together. About every 2-3 weeks, we start something new. In many ways, I have the advantage – not only do I pick the books, but I have read almost all of them before. This is because I'm doing all I can to mentor/disciple my friend and partner in ministry. What an amazing friendship this is becoming.
What I want to do in this post is give a tentative list of books that Brett and I (and hopefully a female staffer someday – God willing!) will read together for our "Staff Meetings." That will the the content of the first part of this post. The second list – albeit shorter – is the list of books that folks in our "huddles" (grassroots discipleship groups which are designed to help apprentice people to Jesus and to yield opportunities for future leadership) will dig into. You will notice that most of these books are written to a "popular" or "intermediate" reading audience. But the content/theology therewithin is excellent! Also, note that the order will probably change depending on where our dialogues take us – at least for the staff meeting books. Finally, just because a book isn't on this list, it doesn't mean that I haven't benefitted from it. In other words, this list is an intentional intro to the theological and practical posture of our faith communities – from a vision standpoint.
***UPDATE: I want to emphasize that this book list is seen in our context as an "introduction." So, if something doesn't appear on this list, it's likely that it will be the sort of thing we will tackle after we get through some of these foundational popular/intermediate level books. Remember, my context is one with many post-evangelicals who have much deconstructing/reconstructing to do. These books give us a common language as we continue to wrestle with issues.
Staff Meeting Books (in the order read so far or the tentative order in which we plan to read them):
Jesus for President by Chris Haw and Shane Claiborne. We read this book as an accessible look at the Kingdom of God and examples of how we might join in God's mission to bring shalom to all things.
The Myth of a Christian Nation by Greg Boyd. This book accomplishes much that the first book attempted, with a greater focus on the distinctness of the Kingdom of God from all other governments. Greg says theologically the sorts of things that Haw/Claiborne say poetically. They are great books to read together.
God's Shalom Project by Bernhard Ott. This is an intro into a narrative approach to reading Scripture – through a distinctly (yet not exclusively) Anabaptist lens. It is written at a college Freshman level and is a great resource for understanding the "big picture" of the Scriptures – from creation to [re]new[ed] creation. Can't recommend this book enough.

A Generous Orthodoxy by Brian McLaren. Still, to this day, one of my favorite books. It was written around nine years ago and is still quite relevant to our ministry today. In this book, McLaren wrestles with the best things from many traditions and integrates them into a theological posture of hospitality and formation. In many ways, that book laid the foundation for how I think about being a Christian today. I may be Anabaptist… but I'm so much more. A book with nuggets and challenges which I commend to you.
True Story: A Christianity Worth Believing In by James Choung. This little narrative helps give us an alternative to thinking about the message of the Bible to the previously popular "Four Spiritual Laws." If you like N.T. Wright and all things missional, this is a great introduction to help people rethink the gospel in a positive/biblical way.
The unKingdom of God by Mark Van Steenwyk. Admittedly, I have yet to read this title. With that said, I've been encouraged by Mark's vision of the Kingdom as counter-cultural. His call to a hope-filled Christian Anarchism is exciting so I look forward to reading this book for the first time.

The Blue Parakeet by Scot McKnight. Scot's books are all great… seriously. This particular book deals with two important issues: how to read the bible in a responsible manner and how to apply these ideas to the question of women in ministry. My view is that this issue (of women in ministry) says a lot about one's exegetical approach to Scripture. A beautiful book that invites us to read Scripture with integrity and as we do so, to open doors for women to serve as pastors, elders, bishops, etc.
Love Wins by Rob Bell. Although I may not agree with every nuance of this book (although I agree with MOST of it), it is the best book I've read (designed for a popular audience) to deal with how to wrestle with a God of love and human freedom within our contemporary reality. Challenging and hopeful – my kind of book!
Razing Hell by Sharon Baker. Sharon is a fellow BIC-er (Brethren in Christ) and her book takes the "hell issue" of Love Wins and brings greater clarity. I agree with her thesis and conclusion on hell. You can read about it in my series: Hell Yes. Hell No! Or Who the Hell Cares?.

Proclaiming the Scandal of the Cross by Mark Baker. Mark is a personal friend and mentor. This book is helpful for those who don't understand how God could possibly execute anger/wrath towards God the Son. It heavily critiques Penal Satisfaction views of the cross and offers alternatives through various examples of sermons. Seriously a great read!
Surprised by Hope by N.T. Wright. Most important book for evangelical pastors to read. Heaven is not the end of the story, God's new creation is. God's redemption, mission, and purpose is for this world which will be renewed when God brings heaven to earth at the end of the age. Possibly my favorite book of all time besides the Bible.
Simply Jesus by N.T. Wright. This book gives us a thorough look at the issues leading up to the earthly ministry of Jesus and the early church. If you love learning about the context in which the New Testament was written, this book is a great place to start!
Colossians Remixed: Subverting the Empire by Walsh and Keesmaat. One of my favorite and most life-changing books of all time. Their approach to the theology and contextualization of Colossians, along with their prophetic vision for the church, will unsettle folks while bringing hope for the future of the Jesus movement.
Come Out My People by Wes Howard-Brook. This book is a challenging look into the way in which the Bible interacts with empire. Wes is someone I greatly respect and his theme of "coming out of her" has been a recent shaping influence on my reflections on what it means to be a Jesus-follower. Heavier reading so it lands later on the list. *I originally omitted this book on accident!
Fight: A Christian Case for Nonviolence by Preston Sprinkle. I reviewed this book recently. Great introduction to the issues surrounding nonviolence from a biblical perspective! *I originally omitted this book on accident!
Ancient Future Faith Series by Robert Webber. This series helps us to understand that the church has ancient roots which give us the resources we need to be the church in the 21st century. I can't recommend these titles enough! *I originally omitted these books on accident!
And the list goes on. If I were to guess, I'd think that it would involve a mix of church planting books, theology books, and popular level books. Some that come to mind include: The Naked Anabaptist by Murray, The Cost of Community by Arpin-Ricci, The King Jesus Gospel by McKnight, The Shaping of Things to Come by Hirsch and Frost, The Evolution of Adam by Enns, Reading Revelation Responsibly by Gorman, Is God to Blame and Benefit of the Doubt and God of the Possible by Boyd, The Bible as Improv by Ron Martoia, A Faith not Worth Fighting For by York and Barringer, Mere Discipleship by Camp, and so many more that I'd better stop typing!!!!!!!!
Books Read During our "Huddle" Sequence:
Thin Places by Jon Huckins
The Good and Beautiful God by James Bryan Smith
Jesus for President by Chris Haw and Shane Claiborne
The Good and Beautiful Life by James Bryan Smith
I realize that I didn't say much about the books that will be read in our "huddles." This is because I plan to blog about the things I'm learning in these grassroots missional-discipleship groups as time goes on. For now, let me simply say that you will notice a balance between incarnational-missional living, spiritual formation, and counter-cultural community.
So… which books would be important for you to expose leaders to if you were planting a church? Which books on my list have made an impact on you? In what ways?