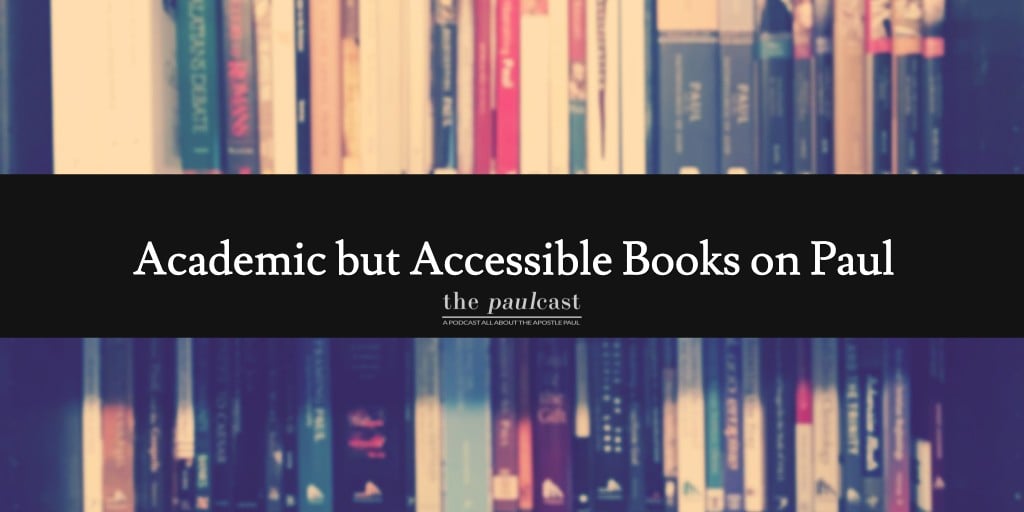 In this post, I continue a bit of a series on books I recommend on the Apostle Paul. This list isn't exhaustive, in any way. In fact, I have several others I like (sometimes more, perhaps). But this is still the list that I'd say would be a 'go to' for where I'd invite people to start in the category of "intermediate" level reading or "academic but accessible." Last post, I gave a list of intro-level books. If you are new to studying Paul beyond a standard bible study setting, definitely start there and work your way into this group of books.
If you follow my work, you know that I am trying to bring the study of Paul into the hands of pastors, lay leaders, and armchair theology nerds alike. Most of this work happens on the Paulcast: A Podcast All About the Apostle Paul. Check it out. Seriously amazed at the response over the last 8 months or so.
If you like this sort of resource, I hope you'll share this with friends!
If you want a history of how people in various schools of thought have read Paul's letters, this is the best book: by far! Can't recommend this book enough.
This book was the first place I read about the subversive Gospel of Jesus that subverted the imperial ideology of Rome. Excellent book.
Why does all of this scholarly stuff matter in the first place? These writers reflect on the New Perspective on Paul and how it makes a practical difference in how Christians live their lives.
Read this is you want to know about Paul's gospel against the empire!
I loved this book. With one reservation: it is a bit too radical / anti-orthodox on a few points. But I agree with its overall vision, a Paul within Judaism who subverts empire.
Here, one of my favorite scholars looks at Paul as a practitioner through the lens of what is called "missional hermeneutics."
What happens when a classicist looks at ancient Greek and Roman texts and compares them to Paul? This book does. So good!
My friend Daniel Kirk leans in heavy on the tension between Paul and Jesus. And in my opinion, he succeeds at showing how these two figures are compatible when it comes to vision and message. A fun read with great insights!
What happens when John Piper calls out NT Wright? Wright rights the wrongs of Piper by demolishing his hyper-reformed views of imputation and the like.
Richard B. Hays brought into the light that "faith in Christ" is usually about the "faith(fullness) of Jesus," focusing on God's initiative versus human faith. These scholars debate the merit and implications of Hays' and others' insights.
—————————————————–
Check out The Paulcast if you want to dive into the accessible deep end on Paul!