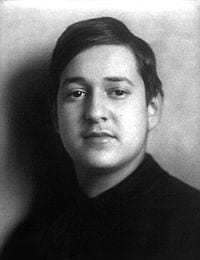 In my last blog, I admitted my fears related to aging in general and my upcoming cataract surgeries. I tried to explore why a more traditional acceptance of the numerous biblical references to "fear not" were somehow not enough for me, though I have often enough suggested through my teaching and preaching that they could be. Because I am a decidedly rational and reasonable person—ask anyone who knows me—a rational and reasonable acceptance of what the Bible so often says would seem adequate to relieve some of my anxieties. It simply does not work for me at this stage of my life.
I then referred to Walter Breuggemann's excellent book, Finally Comes the Poet, wherein that superb scholar noted that mere rational argument was rarely chosen as the way to offer to Israel, and thus to us, what God suggests or commands. Especially in the ancient prophets, he claims, we find poetry rather than axioms, colorful metaphor rather than precepts or principles. Though the church has for centuries turned this poetry into creeds and prosaic demands, in the end it remains the poetry that speaks most powerfully to our deepest needs. We are once again entering the seasons of Advent and Christmas, and no better examples of poetry, wrapped in mystery, may be found than in the ancient stories of shepherds, wise men, stars, and angel choruses. Indeed, our celebrations would be null and void without these exquisite poetic images.
For me, I mentioned that poetry appears in my life in multiple guises: art, dance, music, and, of course, words. And I said that when I appear for my eye surgery next week, I will carry with me in my inner ear most particularly a song from an obscure opera by a now nearly forgotten German composer who lived eventually not far from where I now live, namely in Los Angeles. Erich Wolfgang Korngold was born in Germany in 1897, the son of a very famous music critic. Korngold was a fantastically prodigal musician, writing music before he was 10, composing the song I can still hum when he was 19. Indeed, the aforementioned opera, "Die Tote Stadt," ("The Dead City") was completed when Korngold was 20, and premiered in two significant opera houses, Cologne and Hamburg, in 1922. Rarely has a work by a 23-year-old so taken the musical world by storm.
With the rise of Hitler, Korngold left Germany—he was Jewish—and settled in Los Angeles, more specifically in Hollywood. After his emigration, he worked on many big-budget movies, and won two Oscars for his film scores (see "Captain Blood" with Errol Flynn, for a great example). It could easily be said that Korngold invented the grand Hollywood musical score, now made so familiar by John Williams, among many others. Yet, he still thought of himself as a classical composer, and after the war returned to Europe, seeking validation as a serious composer once again. Unfortunately, he failed to capture much recognition, though he continued serious composition until his rather early death at the age of 60. None of his post-war operas remain in the repertory, and only "Die Tote Stadt" is staged now, and that only periodically. I saw a performance of it in Dallas some years ago.

One day, he sees a woman, a member of a travelling troupe of singers and dancers, who uncannily resembles his departed Marie. He becomes convinced, in his reverie and deep longing, that this woman, named Marietta, is in fact his dead wife come back to life. He invites her to come to his home, telling his dear friend, Frank, that Marie is miraculously still alive. His friend tries to dissuade him, but he is completely deluded into imagining that Marietta is in reality the returned Marie. When she appears at his door, Paul is instantly enamored, and the two of them sing a duet version of "Marietta's Song," an achingly simple tune, haunting and obviously memorable. It has become easily Korngold's most important addition to the concert repertoire; nearly every serious soprano has the song in her voice.
However, the duet version of the first act is not what I remember, as beautiful as it is. After all, Marietta soon reveals herself to be not at all like Paul's Marie; she is vain and flighty and grossly flirtatious. In a sort of dream state, Paul strangles Marietta/Marie with his dead wife's braid, ridding himself of this would-be phantom Marie. When he awakes, he realizes that his murder of the woman has not occurred, and that she could not be his departed lover. Marietta returns to Paul's home to reclaim her lost umbrella, and attempts to flirt with Paul. He rejects her, now rather politely, and says to his friend Frank that it is time for him to leave Bruge forever along with his obsession with his deceased wife. In short, he vows to start life again.
It is then, at the opera's end that we hear again, this time sung by the solo tenor, the song that so moves me. Let me quote the second verse.
"Even when sorrow approaches,
come to me, my true love.
Lower your pale face—
Death will not divide us.
Though one day you must go from me, Believe that there is a resurrection."
Paul is singing, of course, to his dead wife, but I hear the poetry as more expansive than that. He finds a renewed hope for a new life, a new way of being in the world, by using her memory, not as a burden or crutch, but as a stable foundation for whatever his life now may offer to him. I love this achingly beautiful song precisely because I hear it just like that. It offers to me a sense of hope and purpose for whatever life may bring to me. I find the promise of my God for support and aid in my trials, and this fabulous melody witnesses to that support. Finally comes the poet, and I am renewed and refreshed once again! (You may hear the aria from many singers on YouTube.)
(Images from Wikimedia Commons)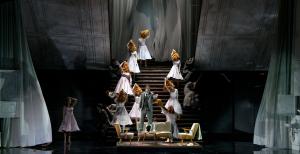 Why does that one song continue to haunt and thrill me? I must admit that I am a great devotee of Mahler, a consummate writer of songs and vast symphonies, who was a favorite of Korngold's, too. "Die Tote Stadt" is, it has been said, a last flowering of the rich romantic tradition represented by Wagner, Richard Strauss, and Florent Schmitt, among others. This passionate and extravagantly scored musical genre had fallen out of favor when Korngold attempted to reenter the world of classical composition in the 1940's and 1950's. Yet, I still love those named composers, along with the later Brahms, and of course Mahler. "Die Tote Stadt" is a psychological drama that lends itself to a rich musical presentation. It revolves around a man, Paul, whose beautiful wife, Marie, has died, leaving him a despondent widower. He keeps a shrine to his wife, including a long golden braid of her hair, in a special room of his house in Bruges, Belgium.