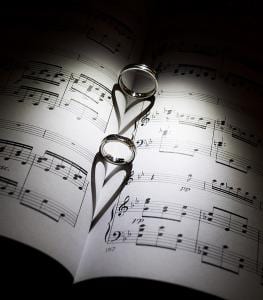 Later this week, I will be performing a wedding here in Los Angeles, the first one here I have been asked to do. I have in reality not officiated at that many such ceremonies in my 50 years of ministry. Because I was only an Associate Pastor of a Louisiana church for two years in the 1970's, and an interim pastor of two congregations in the 1990's, my opportunities for leading wedding ceremonies have been limited. Over the years, I have perhaps led 15 such events, and because they are so few in number, I can remember each one quite vividly. All preachers have numerous wedding stories that we enjoy telling to one another, trying to outdo each other with the weirdness that such occasions often bring. I imagine those pastors who are reading this have just had THAT wedding experience pop into their brain; I wish you could share it with all of us! I will spare you a full account of my favorite, though I will reveal that I was chosen to perform this remembered ceremony by a woman I did not know who heard me speaking on the radio and loved my voice. She was married at a downtown boutique Dallas hotel, all of which she had reserved for the ceremony and participants, having hired 16 first-desk players from the Dallas Symphony to perform, spending, she told me, about $50,000 on the flowers alone! It was quite the affair, to say the least. I hope my voice performed at her expected level. She never said.
The wedding this week in LA will be altogether a different experience. The couple who asked me to officiate are both members of our church, both attorneys in the same law firm, neither particularly youthful, though neither has been married before. Both of their law practices are well established, and they are clearly mature adults who love one another and hope to spend their lives together. The saga of the upcoming ceremony, if not epic, has plainly had its ups and downs due to the global COVID-19 pandemic.
They first were to be married in May at our church, a magnificent building on Wilshire Blvd, built in 1951 with a large sanctuary, a fabulous pipe organ, superb stained glass windows, crowned by a huge multi-colored window at the front which at the right time of day sheds its beauty onto the floors and pews of the building. The groom was in his college days a musician, and he still had many friends from those days who play professionally. Thus, he had planned to ask a few of them to provide what would have been fantastic sounds for the event. Then, after the rather lavish ceremony, they had invited me and my wife to a rich dinner in a fine local hotel. It would have been a festive evening to remember, I am sure.
But then came the virus. We met in March, not long after the outbreak, and hoped that perhaps August would bring relief and the planned event could go forward as newly scheduled. But as cases surged, and large indoor crowds were discouraged, and then banned, they decided to decrease the number of participants in the ceremony to 15 or so, and began to look for a suitable outdoor space. Not many weeks after that they called me and said that too many of their family and friends could not participate in the severely restricted way they now envisioned, so they had decided to delay the event until sometime in 2021. They would let me know. I told them that as long as I was still among the living, I would be happy to wait for their call. I mean, I was not going anywhere either, so waiting was not a problem for me.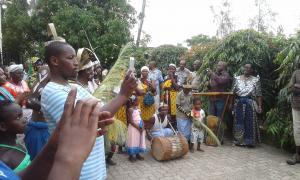 But then in July, they called again and said the ceremony was on, but not in the church. The church, due to local public and ecclesiastical authorities, had very strict requirements for use of buildings for inside events like weddings, and the couple felt that such restrictions would be so onerous as to make any service too complicated and unsatisfactory. So, they said, they had just moved to a new apartment—the first time they would be living together—and had determined that the ceremony could take place as follows; I would stand outside on a rather large balcony, while the couple would be appropriately distanced from me, and all other persons—the 4 parents, 2 siblings, and 2 close friends would also be there, distanced and masked. Though I have yet to see the space, I trust their judgment about its suitability in this difficult time, and agreed to perform their wedding as they see it. Perhaps in a later essay I will tell you how it all went.
Why have a wedding at all in such a time as this? Why not wait for the day when a vaccine will free us from this monster, and allow us to resume our lives again? My couple decided that their love and commitment to one another would not wait to be publically recognized by family and friends, and I applaud their decision. What this COVID world needs is a wedding! And here is why. We now, perhaps more than ever, need a public proclamation of the overwhelming power of love. While we cope with the raging virus, along with the broken systems of racism it has broken open for all to see, added to by the continual and shameful assault of our institutions on Black and Brown citizens, proclamations of the astonishing agency of human love, as a mirror of God's love, are more than welcome.
During the upcoming ceremony, which by necessity needs to be short in order to minimize the danger to all those who will be there, I will read two brief passages of scripture and offer one short paragraph by way of elaboration. I have chosen two well- known texts, the first from The Song of Songs, or as it may be translated "The Most Beautiful Song," and an equally fine piece from the letter of I John. I have translated, and partially paraphrased both texts, by way of clarity and focus. First, from the Song, chapter 8:
Fix me like a signet ring encircling your heart, Like a bracelet enclosing your arm;
Because love is as muscular as death, Passion as powerful as the grave; Its flames are fiery and raging.
The great flood itself could never sweep over love, Rivers could never drown it.
If anyone offered an entire house and its goods for love, Only scorn would be the reply.
And then from I John:
My beloved, let us love one another, Because love is from God;
Anyone who loves is birthed by God and knows God. Whoever does not love, does not know God,
Because (to say it simply) God is love.
Following those readings from the Bible, I will say something like the following:
Today we celebrate that love, a sign and a signal that in the midst of doubt and sorrow, in the midst of virus and division, there remains at the center of the universe a great heart of love, forever beating, a heart that will never stop its signal that love is unconquerable. Every wedding is a witness, a living sign that love wins, however hard that is to believe and to accept. So, you two, thank you for your witness today that love rests in the very heart of the cosmos and may be seen so easily in the two of you.
Later in the service of the United Methodist Church, we find these wonderful words: "Bear witness to the love of God in this world, so that those to whom love is a stranger will find in you generous friends." In other words, the love we feel for one another simply must be expressed to all those who have so little evidence of that love in their own lives. And that is why we need weddings for such a time as this, and for every time. I anticipate this week's service with joy, and am so grateful to be involved once again in such a profound witness to the wonderful power of love.
(Images from Wikimedia Commons)