My weekly blogs are brought to you in part by my ministry – Spirit, Mind and Body Foundation. We are part of a much larger organization, Centers for Spiritual Living.
In 2016, the Foundation joins over 100 other CSL ministries around the world in promoting, discussing and working toward the goal shown above. My blogs will be based on a monthly theme, with a difference aspect of that topic in my weekly blogs.
But is "a world that works for everyone" even possible? I believe it is. Why?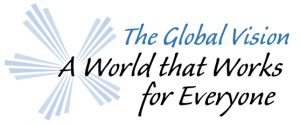 Because our thoughts create our experience. The question "But what about …?" is a sure way to keep ourselves and our planet in conflict. The only way to be part of this movement, which is taking place with people and 21st century organizations worldwide, is to start with ourselves.
That doesn't mean we turn blind eye to the challenges around us. In fact, this avenue of thinking allows us to take an even greater part in the changes we all desire. How?
Taking personal responsibility for our own lives quickly changes the situations in which we find ourselves. You already know how the energy in the room changes when you're around someone who doesn't have a kind word to say about anyone or anything. The opposite is also true,
I invite you to join me on a year-long quest for this ideal, making it part of your personal and business life, as well affecting change for good on our planet.
May you have a safe and prosperous New Year – See you in 2016!
In Spirit, Truth and Playfulness,
Terry