I live in a small town. The population is somewhere around 8,000 people. The shop I co-own is nestled in an historic downtown district. The address is quite literally 123 Main street. The town our shop is located in also has a population of about 8,000. Both towns have their charms and have fought tirelessly to keep out big box stores and chain retailers, opting instead for unique, local businesses.
The North Bay, meaning north of San Francisco and encompassing Marin and Sonoma Counties, is beautiful. Total population is about a million and a half people. The North Bay population swells though, as tourists and bay area residents escape the city life and come up here to the provinces. We have redwood groves, rivers, beaches, the ocean, and the aforementioned downtown charm that's been lost in most large cities.
There's a particular magic that happens living and working in a small town. Sometimes our witchin' happens right out in plain site, if you know where to look.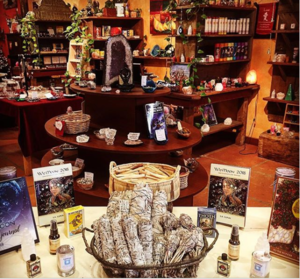 Downtown Magic
The Apple Blossom Parade is a big deal 'round these parts. It's exactly what you think. There's a parade through downtown with the mayor in a fancy car, and high school bands, and the local karate club doing a synchronized demonstration. Shriners ride about in those weird little cars. Jugglers and uni-cyclists show off their skills. There's a float dedicated to sustainable farming and permaculture practices. And more than a few Pagans dotted about on various floats, you know, just like regular folk, but witches.
There's a tacit agreement between "those in the know", you know the (shhh…) witches, that apart from celebrating the town's apple heritage, we're also performing a spell. It's a prosperity spell and a fertility spell and a "let's keep our odd little bubble thriving" spell. Every piece of candy thrown, every "Hi ya neighbour!" is part of the magic. As the floats move through downtown, the spell is woven. It's been this way for decades.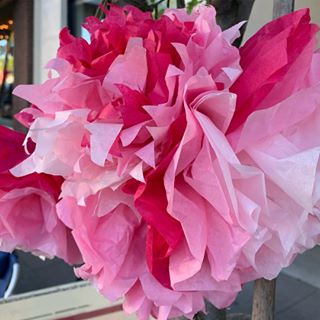 Apple Blossom Magic
The night before the parade, myself and a couple of volunteers, hung 600 paper blossoms. We tied them into trees and on sandwich boards and on the awnings all over downtown. As I put up each blossom, I blew a little breath into it and whispered an incantation. I shared a wish, a blessing, a prayer all over downtown. Maybe you've never experienced hanging paper blossoms all over town, but you get a lot horn honks and thumbs up and thank yous. It feels grounding. Differences of opinion disappear and folk come together to support a common goal. There's a little magic in that too I think.
Hometown Magic
There's magic wherever you live. Even if that's only because you live there. Before the buildings went up and the personality of the place became so well defined, there was/is a spirit of the place you inhabit. Culture and cultivation add charm to a place, but I bet there's something indefinably "Hawke's Bay" or "Chicago" or "Queen's Camel" about every place. What's the spirit or the magic or the ineffable thing where you reside?
And can you do magic with or for or inspired by your bit of the world? In fact, I'll be bold and ask the question. What magic do you do in the places you live?