I can't help myself. It happens every year around the autumn equinox. The day comes when there's a slight chill in the air and the sun feels just a little less prominent in the sky. And all I can do is think about soup. The soups I make at this time of year are really for my own pleasure. Most everyone else in the house tolerates soup, but it's not their idea of a good meal. Me, I could and do eat soup, three times a day for breakfast lunch and dinner.
Autumn Equinox & The Harvest
The autumn equinox and the last of the summer vegetables start me thinking about balance. Equinoxes are all about still points and transitions for me. I still have warm days, but the cold isn't far off. I still have summer produce, but the farmer's market has just a little less on offer. Bright yellow squash, are giving way to orange and brown gourds, and right behind them are the dark greens of kale and other winter crops. The sunburst of fresh peaches has all but disappeared and I'm left with their slightly less ebullient counterparts, securely stored in jars.
And there's something about making do. You know, looking in the fridge and pantry and thinking "okay. There's only so much of this ingredient or that ingredient, what's the most amount of nutritious food I can make with this, right now"? For me that translates beautifully to the autumn equinox – How much is there left to do with the resources I have before I go to ground for a few months?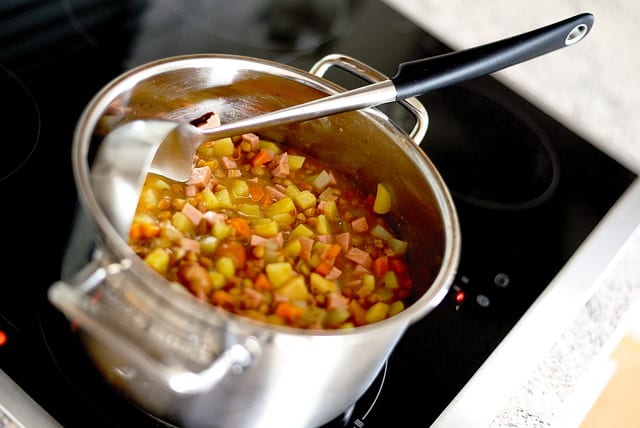 Autumn Equinox Soup
There's a reason I like to make soup at this time of year. One, there's that chill in the air I mentioned. Nothing like a hot mug or bowl of soup to make me feel all cozy, cuddly, and warm inside. But really it has to do with the ingredients. There's something about the vegetables at this time of year and the various and multiple harvests coming in, that just sits right with my kitchen witch's soul.
Here's the recipe. It's simple. Home cooking at it's best. Anyone can do it. Fresh vegetables are preferred, but substitute in frozen, canned, or pre-cut from the store, if that's what you have.
My Autumn Equinox Soup Recipe
Total prep time is about 15 minutes. Total cook time is 30 minutes. You'll get six (ish) servings.
2 tablespoon

s of olive oil

3

 medium carrots, diced

1

 medium yellow onion, diced
5 cloves of garlic, minced

2

 cups of butternut squash, peeled and cubed

2

 medium red bliss potatoes, washed but unpeeled, cubed

1

 large zucchini, sliced down the middle then cubed
1 large yellow squash, slice down the middle and cubed

1 cup

 of green cabbage, chopped (I like longer ribbons, but smaller chops are fine too)

1 teaspoon

 of kosher salt

1 teaspoon

 of fresh sage

1 teaspoon

 of black pepper

3/4 teaspoon

 of all-spice

1 quart

 + 

2 cup

s of vegetable stock
2 springs of thyme
2 sprigs of rosemary
2 cups of kale, chopped (I like the curly kind, but all kale is good)
Grab yourself a large pot and heat it for 1 minute over medium.
Add the oil and then toss in the diced onions and carrots.
Saute for 5 minutes or until the veggies begin to soften. Stir occasionally.
Throw in the 5 minced garlic cloves, give everything a good stir, and let it cook for 2 more minutes.
Here's my favourite part. Add in the all the vegetables, except the kale.
Add the salt, pepper, sage, and all-spice. Using a folding motion, stir the ingredients together.
Pour in the stock, add in the rosemary and thyme, and bring to a boil. Once your soup is bubbling away, reduce to medium and simmer for 10 more minutes.
Add in the kale, gently stirring it into the soup. Simmer for an additional 10 minutes.
Discard the thyme and rosemary sprigs.
Serve in bowls, with some crusty bread, and ponder what it is to be nourished inside and out.
Happy Autumn Equinox and let me know how the soup turns out!