I received a gift this morning.  A gift so full of love and hope that I am still nearly breathless.
Several years ago, Vicki Attaway made her way to the church I serve, having heard that there was a female pastor there and that she might find it welcoming and comfortable.  Within a short period of time, I discovered that Vicki, as am I, is a graduate of Rice University. An immediate and unbreakable bond formed. There are few of us and even fewer women of our generation who can say that.
In time, Vicki's love for God and willingness to serve became invaluable to me and our community. She arrives each Sunday morning VERY EARLY. The building sits empty and still. In that stillness, she sets out the elements for the weekly Service of Holy Communion. She keeps those elements supplied as we run low, including baking the gluten-free wafers that I and a few others must have. She changes the altar-cloths and stole colors as the liturgical seasons come and go. She puts fresh batteries in my microphone and has the mouthpiece properly threaded through the hole in the pocket of my preaching gown. She marks my hymnal with the hymns of the day, puts out the registration pads, maneuvers new wicks in the candle-lighters, cleaning them out as necessary and places fresh candles on the altar as needed. She competently handles dozens of other little noticed but vital tasks.
She prays for me diligently during our worship services. She is the unlucky recipient of the first drafts of my newspaper columns. Patiently, week after week, she reads, critiques, calls me out when necessary, sharpens the point, and then, after all that, has to clean up my many typos. I'm a fast and rotten typist.
I try to get to the building early enough each Sunday so the two of us can enjoy a few moments of quiet catch-up. Sometimes she sits nearby while I play a game or two of computer solitaire, supporting that time to clear my brain and clarify my focus.
I  was privileged to meet Vicki's parents, the lovely George and Virginia Attaway. The Attaways, founding members of a church in Denton, loved their daughter and delighted in our friendship.  The excellent seamstress Virginia made cushions for our kneeling rails and also fixed my preaching robe so I did indeed have the right kind of pocket to hold my microphone receiver. The "holy pocket," we jokingly called it.
Two years ago, I was stunned to receive a call from a church member and learn that Virginia had died suddenly. That church member had been working on the floor of the hospital when Virginia died, thank goodness, or I might not have found out nearly so quickly. I raced to the hospital, my own heart breaking with the broken hearts of this weeping family.
After Virginia's death and after over 50 years of vital marriage, George, in his mid-70's and in excellent health, sank into a deep, deep depression. No surprise–this loss was  too great. On April 3, 2013, he, too,  passed from glory to glory, almost exactly two years after Virginia's death. Intractable pneumonia took over after a necessary surgery for a diseased gall bladder.
Right after the surgery it looked like an uneventful recovery would send him home in a few days. George and I had a wonderful conversation in which he indicated that he was ready to start living again. He would emerge from those two years of sadness. He did, of course, but not the way I or his family had hoped.
This morning as I entered the church ready to begin those Sunday morning preparations, I walked to my desk to find on it a parcel with an envelope attached. Never one to bother with the niceties, I tore into the parcel and ignored the note. What I found was this, one of two charcoal portraits: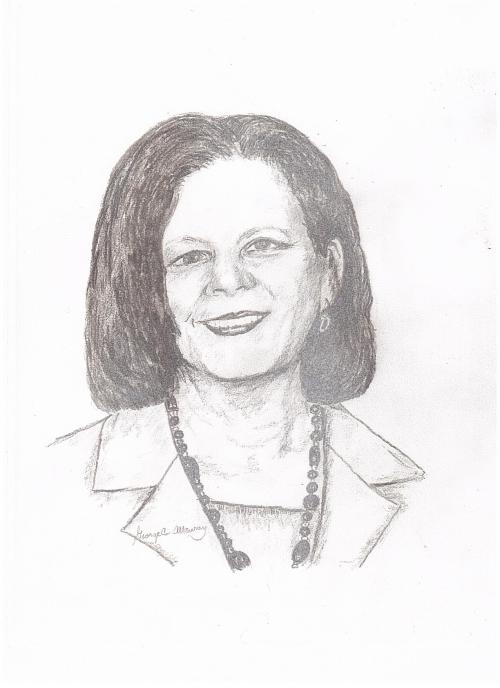 I looked at it, tears coming so rapidly I could not wipe them away fast enough. George, an extraordinarily gifted artist, had spent some of his last months of life drawing those two portraits of me. I opened the note:
Dear Christy, 
Daddy drew these for you in December.  I never had a good time to give them for you, but now I do.  He came alive again to have a chance to draw something very meaningful to him.  It got him out of his chair, saying, "Now I have a goal"  — to draw Christy.  
He labored over it with love and worked his heart out to get it right, saying this is a beautiful woman inside and out.  His hands were literally on your face as he drew it.  
You were precious to him.  He was so glad that I had you as a friend.  He wanted to see if he still "had it" (i.e., the ability to draw portraits.)  I definitely think he did!  He drew the front of this card. 
What a gift he had as an artist.  And what a generous, kind and intelligent man he was.  So courageous in life and even in his death. 
Thank you for loving him.
Love,
Vicki
I have many moments when I wonder if make any impact for the Kingdom of Heaven. Those times when my innate tendency for melancholy colors everything I see. Those times when I am able to acknowledge only the undone and not the done. Those times when I forget the privilege I have of participating in the salvation path of so many people. Those times when necessary administrative tasks so load my desk that my Bible and prayer book disappear under the piles. Those times when I am blind to everything but the cross before me.
I struggle with the knowledge that the evaluation of my effectiveness in ministry rests heavily on two things over which I actually have no control:  how many people show up for Sunday worship and how much money they contribute. I acknowledge the necessity of such use of metrics.  But they say so little about the massive ministry that takes place within this fairly small church community. They say nothing about those newspaper articles or blog posts that are read by thousands. George Attaway was one of many who found much of his pastoral care in those articles and in many ways considered me his pastor.
But as I sat at my desk this morning, those unchecked tears pooling on the just dusted wood (I am officially on vacation as of this afternoon and ALWAYS dust my desk before leaving!), I knew a moment of pure love.
Thanks be to God!