In an interview published today, Pope Francis said the church should be a "home for all" and not a "small chapel" focused on doctrine, orthodoxy and a limited agenda of moral teachings.
Yes, he sounds very much like Jesus. I wonder how long he'll last as Pope. I'd like to think a long time. But I doubt it.
And it would be nice if the leaders of The United Methodist Church could also figure this out.
Another quote from the interview:  "We have to find a new balance," the pope continued, "otherwise even the moral edifice of the church is likely to fall like a house of cards, losing the freshness and fragrance of the Gospel."
Those words just ring in my soul, "The freshness and fragrance of the Gospel."
Yes, that is what we need.
But it has nearly disappeared in the UMC as many move to the powerful position of being Judge and Jury, and the ones with the power to condemn, rather than leave that up to the Holy and Merciful God.
I saw this Dilbert strip recently and thought, "Gosh, do you suppose Scott Adams has been watching the internal workings of the UMC?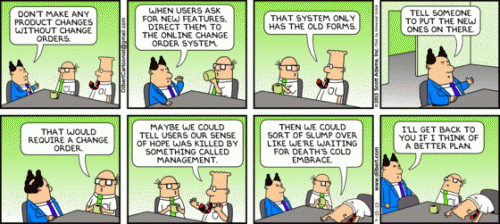 We need that freshness and fragrance.  But we can't get it because it would require a change order and we can't get a change order because our
polity has forbidden the possibility of change orders
. And we can't change the polity for that very reason.
Right now, I serve a church full of that freshness and fragrance. Life and hope springs from this group of people who have committed themselves to living out the freshness of the Gospel.  But there are times when I feel like I have to protect them from the polities and positions that are choking this historic and powerful denomination and leading to its almost inevitable death.
And, I fear for Pope Frances. Generally, anyone who says, "Let's open up access to God and live infused with grace" gets killed. Too many lose too much power when that takes place.
I wonder sometimes if that is the unforgivable sin:  that we decide we get to be God, so we create God in our own image,  and therefore have all power because then we can say for sure, "This is the will of God!"
Pope Francis seems to be willing to be a servant in the household of the Lord, rather than the one who sits on the throne, even though the throne is his.  Again, kind of like Jesus.
We need this.