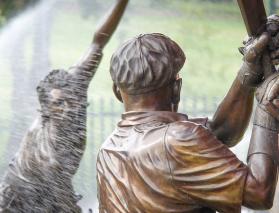 In Australia, a giant scandal has erupted when hidden cameras disclosed the captain of the national cricket team, Steve Smith, had conspired with several teammates to scrub balls with sandpaper, making it much harder for the batters on the opposing team to hit. It is a blatantly illegal practice.
His response brought tears to my eyes:
Disgraced in a blatant ball-scuffing scandal that has transfixed the cricket world, one of its most exalted players flew home to Australia from South Africa on Thursday and broke down in tears, apologizing on live national television for sullying his country and its national pastime.

"I know I'll regret this for the rest of my life," said the athlete, Steve Smith, who until a few days ago had been the Australia team's heroic captain. "I'm absolutely gutted."

"I hope in time I can earn back respect and forgiveness," Mr. Smith told a news conference at the Sydney airport as he struggled to keep his composure, his father standing behind him. "Cricket is the greatest game in the world. It's been my life, and I hope it will be again."
This is how to handle wrongdoing: a sincere apology and a willingness to pay the price. As appalled as the Australians have been over his actions, they are now moving toward mercy BECAUSE Smith wholly owned what he did and offered such a convincing, undoubtedly authentic, apology.
While Smith is indeed guilty of an egregious violation of both the formal rules of the game of cricket and the informal ethos of sports and fair play, his choice for honesty shows us the glory of human beings when speaking the truth. Truth sets us free; always has, always will.
It's Good Friday, a day when we very well might consider who we are and what we are about as many will spend the day pondering Jesus's horrific death. While suffering, Jesus offers mercy to the one who asks for it. It's truth-telling at its very best.
May we, as we each hope for our own resurrections on Easter morning, discover the freedom of truth. The truth that God passionately loves the world and seeks redemption and wholeness for all of us, not just a few "chosen" ones. The truth that we can say "yes" or "no" to God, and we can say "yes" or "no" to truthfulness, for in real truth we find the very nature of God.
Those who chose to say "no" to the truth will continue to discover themselves trapped and shut down, enmeshed in a crushing web of lies, ultimately unable to move freely. Those who say "yes" to truth, as painful as it may be, will also find glorious freedom and renewed hope in redemption.
That's when life takes over death, and light beats back the darkness.
---
Photo credit: Theen … on VisualHunt / CC BY-NC-SA
---