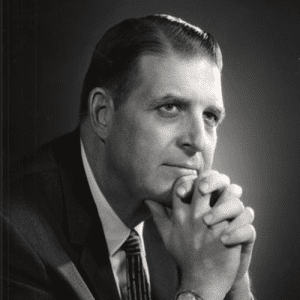 In a new piece at Christianity Today, historian Timothy George writes of the significance of Baptist theologian Carl Ferdinand Howard Henry. George's take is that Henry "invented post-war evangelicalism."
He explains himself:
Henry did not invent post-war evangelicalism all by himself, of course. He had lots of help from Harold John Ockenga, the Strategist; Billy Graham, the Evangelist; Bill Bright, the Activist; Francis Schaeffer, the Apologist; and many others. But it was Henry more than anyone else who argued the case and set forth a compelling intellectual apologetic for what was called in those days the New Evangelicalism.

Henry did this not only from professorship at Fuller Theological Seminary and his chair as the first editor ofChristianity Today, but also through a series of impressive books beginning with The Uneasy Conscience of Fundamentalism and culminating in the six-volume God, Revelation and Authority. GRAis still the most sustained theological epistemology by any American theologian. It deserves to be read more than it is, but it is not easy to read. Theologian Millard Erickson once said, with a twinkle in his eye, "I love Carl Henry's work. It's extremely important. I hope someday that it is translated into English!"
If you want to learn about Henry, you'll want to buy this forthcoming book from Union University theologian Gregory Thornbury, who knew Henry and trained under him. My dissertation has a good bit of material on him; if you trend toward the nerdy direction, you can buy it here (no laughing, please). There's a slim, old, but quite readable biography of Henry by Bob Patterson that will introduce him to you if you can find it.
Carl Henry was a hugely important figure. He thought deeply about epistemology, authority, revelation, and theology proper. He can be hard to read; he sometimes writes like he's under a newspaper deadline (he was a journalist early in life), though in other sections he's piercingly insightful (many in fact). He's not unlike Karl Barth in that sense, though he's far more trustworthy.
I'm not sure that I could go with George on the idea that Henry, not Ockenga, invented evangelicalism. I've heard that Henry, in teaching a class on evangelical history, used to start the class by giving his date and place of birth. He did so in a puckish way, of course; nonetheless, I'm inclined ever-so-slightly to see Ockenga as the founder of the "new evangelicalism." He was first president of the National Association of Evangelicals (which kicked things off), first president of Fuller, and if that's not enough, he coined the term "neo-evangelicalism" in his 1947 Fuller convocation address. He was building the early institutions of evangelicalism while Henry was teaching and finishing his second (!) PhD.
Okay–I guess I'm being slightly puckish myself. You must excuse me–I would, after all, call myself something of an Ockenga devotee.
George's piece is good reading. I look up to Carl Henry, and was once a member of Capitol Hill Baptist Church when he was a watchcare member living in Wisconsin. It was an honor to work at the center named for him, the Carl F. H. Henry Center for Theological Understanding at Trinity Evangelical Divinity School. Since the days when we were church members together (this is how I choose to view it), he's gone on to his reward. He's a needed and inspiring figure, one worthy of study and appreciation, and an exemplar of excellent evangelical thinking and thought-leadership.
With others, furthermore, I believe in his dream of evangelicalism, difficult as it is in a fallen world to piece together.