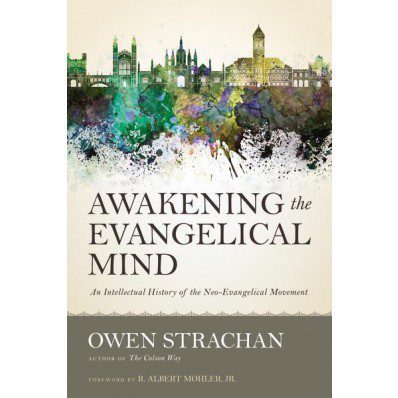 This one has all the makings of a classic boxing match, doesn't it? James "KO" Smith against Owen "Trampling Marsden's Coattails" Strachan. What do I mean? Let me give you the breathtaking blow-by-blow.
I just published Awakening the Evangelical Mind: An Intellectual History of Neo-Evangelicalism (Zondervan Academic, Oct. 2015). Awakening represents the culmination of nearly a decade's worth of work. I first engaged Harold Ockenga, Billy Graham, and Carl F. H. Henry in my MDiv at Southern Seminary. In 2006, I took a class on Fundamentalism & Evangelicalism with Shawn Wright at SBTS. I read Joel Carpenter's Revive Us Again, was introduced to the peerless figure Harold Ockenga, and realized on the spot that I had found the subject of my doctoral work.
I followed through by God's grace at Trinity Evangelical Divinity School from 2008-11. There, I continued researching the "neo-evangelicals," as the men above called themselves, and wrote several papers on them under the expert tutelage of Doug Sweeney (and with the assistance of John Woodbridge). In 2010, I took research trips, spent lonely but exhilarating weeks in cold archival rooms, and pieced together my dissertation. I wanted not simply to chart what Ockenga, Graham, Henry, and their peers attempted, but to write an intellectual history of their movement.
In doing so, I wished to build upon the work of elite historians like Carpenter and George Marsden, whose Reforming Fundamentalism (1987) both taught me a great deal and told a great story–of Fuller Seminary's founding and early development–with the skill it deserved. Reforming Fundamentalism is only one of Marsden's works that I love and highly value. His Jonathan Edwards: A Life (2003) is my favorite book, period. For this reason, I asked Marsden to be my external reader on TEDS dissertation. He graciously assented, and my project–completed in 2011–was much stronger for his participation.
From 2011-2015, I continued working on Awakening the Evangelical Mind, editing it for scholarly publication. I edited it so much I could almost recite it from memory! Long story short, it was just published. And here, ladies and gentlemen, is where James "KO" Smith v. Owen "Trampling Marsden's Coattails" Strachan takes place.
Last week, I was puttering around when a friend notified me of Smith's engagement of Awakening on Twitter. This surprised me, but then James K. A. Smith can be surprising. He is a scholar of uncommon gifting and breadth, and I thoroughly enjoy his work and public commentary. Occasionally, he gets a bit peeved by something. Very occasionally, this involves me. After a friend kindly tweeted some endorsements of Awakening (Tim Keller, Tommy Kidd, David Dockery of TIU, Garth Rosell of Gordon-Conwell), Smith tweeted back, "Didn't George Marsden already write this book?" and linked to Reforming Fundamentalism. Well, now!
Smith kept going on Twitter after I told him I had new material to add to the prevailing scholarly narrative: "Really?! Are you saying you DON'T cover the same territory? If I've read Marsden, you're giving me new details, right?"
I admit that this was a strange conversation for me. My interlocutor, a man better-read than I am, had not read my book, a work I spent just shy of ten years working on in one form or another. Despite his lack of awareness of the material, he essentially wrote Awakening off as a rehash. This despite the fact that Marsden's book (a classic of the field) is almost thirty years old, is focused on Fuller, and does not reference many materials that have since come to light (as commonly happens with academic research–more evidence emerges as the years march on).
I took–and take–all of Smith's comments in good humor. But I do find them worth engaging. For one, I'm consciously and happily building on the existing scholarly foundation in my work (as the acknowledgements, introduction, and footnotes show). But I'm also presenting a good bit of new material from untapped archives toward what I hope is a fresh thesis, namely, that the neo-evangelicals attempted a grand intellectual project in the 1940s and beyond. Awakening grounds this story in Harold Ockenga, covers the emergence of the "Cambridge evangelicals" at Harvard (and Boston University), details how the various young scholars (E. J. Carnell, Henry, George Eldon Ladd, and others) fraternized and dreamed together, includes material on Fuller, Christianity Today, and the Evangelical Theological Society, and closes with a long chapter on Crusade University, the ne plus ultra of the neo-evangelical intellectual vision.
In and betwixt these subjects, we get to eavesdrop on the group as it builds its vision. We do this through my research in priceless collections like the Ockenga papers (right around 100 boxes at Gordon-Conwell), the Henry papers (nearly 30 at TEDS), the Kantzer papers (over 15 at TEDS), and more. This is an avalanche of material, in sum. Much–most–of these collections has never seen the light of day. Plundering these archives enabled a bunch of really exciting discoveries. Marsden told me he'd never heard of Crusade University. I also found letters from Ladd to Ockenga that essentially spelled out exactly where he wanted his scholarly career to go, letters not included in previous academic studies of Ladd. Finally, the letters from Carnell to Henry, and Carnell to Ockenga, captured just how ambitious and inventive the Cambridge scholars were.
Beyond this, I attempt to tie all this up in the book's conclusion, which includes some thoughts on the future of the evangelical mind. There has been a lively discussion about the evangelical mind since expert historian Mark Noll wrote his book The Scandal of the Evangelical Mind in 1994. Awakening the Evangelical Mind is a response in some ways to Noll and others. It thus participates in two pretty big conversations: 1) the scholarly historiographical conversation over neo-evangelicalism, and 2) the broader cultural discussion of intellectual Christianity. I briefly counter the thesis of Molly Worthen, whose Apostles of Reason (2013) viewed the neo-evangelical intellectual apparatus with not inconsiderable suspicion.
In sum, I happily confess that George Marsden is a Great White Shark in his field, and I am just a minnow. But I do hope that folks will not see all our evangelical history as having been written. Instead, there is much to write, much to reconsider, and much to build upon. Historians like Worthen seem to suggest that the neo-evangelicals weren't really what they were cracked up to be. Though I make clear that their vision sometimes outpaced their reach, I find in the body of evidence a quite different narrative. (More on this in days ahead.)
There you have it. The blistering, Hollywood-like chronicle of my brief foray into the ring with James "KO" Smith. I expect to shop this screenplay when I'm through getting the word out about Awakening–agents are just chomping at the bit to promote films based on arcane debates between overheated evangelical academicians, after all.