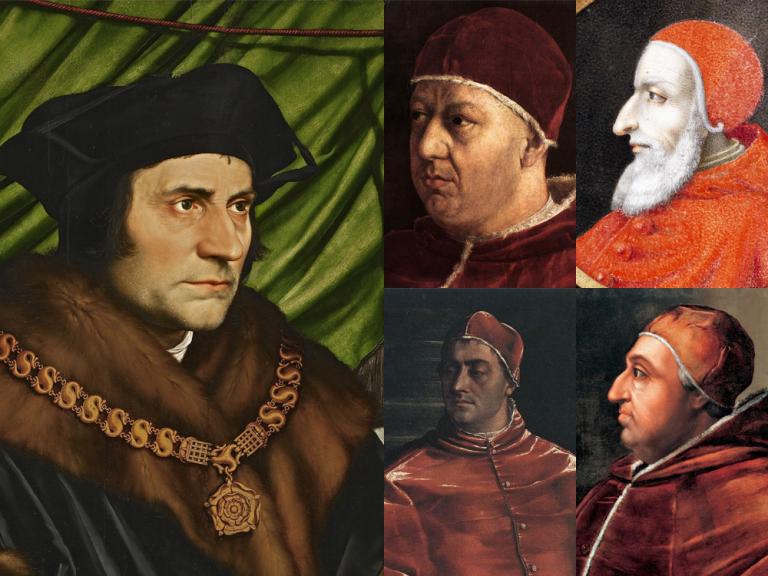 Sometimes we might see corruption in the Church: often we hear accusations but we don't know if they are true. Where can we look for how to act? May I suggest St. Thomas More.
We all probably know that St. Thomas More died for refusing to sign the Oath of Supremacy, which incorrectly declared the king as the rightful head of the Church of England. Thus, he was a martyr for unity between English Christians and Rome. But, have you ever thought about who were the popes and Church officials in his lifetime?
I want to go through all the popes that reigned in the 57 years that Thomas More lived, along with some of the Archbishops of Canterbury and officials in the Roman Curia. Some of these are notoriously bad. As More was well-connected, at one point second to the king, it is unlikely he would've been wholly ignorant of these issues.
The Renaissance was glorious for the Church in all the art commissioned. However, in many other ways, this was a low point for the Papacy and the Church.
These misdeeds are pretty shocking. I present them for two reasons. First, when we realize that only God could have preserved the Church ruled by such corrupt individuals. Second, I think Thomas More is an example of fidelity to the Church amidst scandal.
I present them in approximate historical order.
Pope Sixtus IV
More was born in 1478 under the reign of Pope Sixtus IV, who was guilty of nepotism and scandal. Sixtus made relatives into Cardinals and civil lords. He even participated in an attempt to overthrow the Medici family in Florence. He also reaffirmed the concessions previous Popes had given allowing the Portuguese to have slaves in foreign colonies. Sixtus created 23 cardinals, which was a huge number as his conclave only had 18 cardinals total; however, most of these were from top aristocratic houses, not holy priests and bishops.
Pope Innocent VIII
As More reached school age in 1484, Innocent VIII took the Papal throne. Innocent pursued the inquisition and searching out witches. He had two illegitimate children from before entering the clergy. He married his son into the Medici family in exchange for giving the cardinal's hat to a 13-year-old Medici who would become Pope Leo X.
Cardinal John Morton
Morton was named post of Archbishop of Canterbury in 1486 and held this post simultaneously with Lord Chancellor of England from 1487 till death in 1500. He increased royal resources by making sure to tax even the poorest. His claims for taxes from everyone lead to the naming of "Morton's Fork" which is a claim that opposite observations lead to the same conclusion. (If you live poor you are frugal so can give to the king, if you live sumptuously you have extra to give the king.)
More not only knew of Morton, he was a page in his court.
Pope Alexander VI
Alexander VI ascended the Papal throne in 1492 as one an opulent Renaissance Pope who lived right at More's prime formative years. He was definitely more king of the Papal states than Holy Father of the universal Church. He dedicated most of his time to wars and political considerations, not morals or catechesis.
At his election, only 4 of 27 cardinals were career churchmen: most were relatives of previous popes or crown appointees. One of his rivals for Pope arrived with 300,000 ducats of gold from foreign leaders for conclave bribes.
In fact, his son, Cesare Borgia, lead Alexander's armies and crushed uprising. Cesare's methods were such that Machiavelli uses him as the prime protagonist of proper Machiavellian statesmanship (!). Alexander cast a cardinal into a dungeon over a dispute that lead to armed conflict, and a month later poisoned him.
Alexander had two mistresses and fathered at least nine children with at least three different women. He was nepotistic regarding positions. One of the cardinals he created was his mistress's brother. His son Cesare "inherited" Alexander's previous archbishopric. He arranged the best marriages for his family, going so far as to annul his daughter's marriage so he could remarry her to a different noble. He set his children up so well that many later royal lineages can be traced back to his kids.
The Roman Curia
The Curia under these Popes was horrible. Alexander VI had served in the Roman Curia under the five previous popes, and a few of these other Renaissance Popes were previously in the Curia, to give an indication of what men made up the curia.
Julius II, as a cardinal under Innocent VIII, lead the Papal States into unnecessary conflict with Naples. Later as part of Alexander VI's Curia, Julius lead an armed invasion against the Pope.
The moral debasement of the Roman Curia was a common theme of the preaching of one of the day's great moral preachers, Girolamo Savonarola. He preached against the decadence of priests, all the way up to Pope Alexander VI, warning them of God's impending judgment.
Pope Pius III
Pius's reign only lasted a month. He wanted reforms but was bedridden with gout within a week of his coronation.
Archbishop William Warham
From 1503 when More was in his early 20s until after More was out of office and Henry was married to Anne Boylen, William Warham headed the English Church as archbishop of Canterbury. As with Card. Morton, he took the high rank of Lord Chancellor much of his time as archbishop. However, he resigned it in 1515 about halfway through his reign. In 1531 as Henry VIII was establishing himself as head of the English Church, Warham lead the clergy of the province to accept his headship "so far as the Law of Christ allows." This was a weasel way subtly object to Henry's decrees and to get more unanimity out of his clergy.
Pope Julius II
When More was 25 and about to enter the ranks of formal government positions in England, Julius took the Papal throne. As the nephew of Sixtus IV, he became a bishop young and while cardinal held eight bishoprics at once to collect all the money. He was very involved in politics, and he was the one bringing 300,000 gold ducats for bribes to the previous conclave.
Rather than have his son lead armies, Julius did it himself. He fought against both French and Venetian expansion into the Papal States. He left a spy in the French court while advancing the secular aspects of the Roman Curia. Julius was a man of a violent temperament who was unsympathetic to anything from Alexander VI's time.
He fathered at least one illegitimate child while he was a cardinal and he may have engaged in homosexual relations.
Like Alexander before him and Leo after him, Julius was a quintessential Renaissance Pope who cared a lot about things of this world and little about spiritual things.
Pope Leo X
Next comes Leo X, famous for the line "Since God has given us the papacy, let us enjoy it." In 1513 when he became Pope, More was undersheriff of London and slowly working up the civil service to be Under-Treasurer of the Exchequer when Leo died in 1521 ("Treasurer of the Exchequer" is similar to US Secretary of the Treasury). He was the son of Lorenzo the Magnificent, ruler of Florence and lived like it. He was a cardinal at 13. As Pope, he used the Papal army and funds to secure his nephew as Duke of Urbino. He spent money as fast as he could and borrowed without a second thought.
Leo oversaw the breakoff of Martin Luther, and large sections of modern Germany and Scandinavia started separating from the Catholic Church. He seemed more focused on Italian politics than the loss of northern territories to Protestantism.
As far as I could research, Leo was probably chaste although this is a topic of debate.
Pope Adrian VI
Adrian VI only ruled 20 months (1522-23), and tried to reform the Catholic Church administratively in response to the crisis. Unfortunately, his short reign and resistance from others in power meant this reorganization didn't happen. His claim to fame is being the last non-Italian Pope until John Paul II and only Dutch Pope ever.
Pope Clement VII
1523 saw the return of powerful Italian families to the Papal throne. During his reign, Thomas More would be Speaker of Parliament, Chancellor of the Duchy of Lancaster and Lord Chancellor (second to the king), but by Clement's death, he will have spent five months imprisoned in the Tower of London.
Clement was caught at the worst time to be Pope and didn't manage to navigate a tough situation perfectly according to historians. He lost much of Northern Europe to the Lutherans and then England to Henry VIII. The two most powerful Christian kings asked him to take sides and he was indecisive until Charles V sacked Rome and imprisoned him, after which he allied with Charles (!).
Pope Paul III
Paul III came to power as More's fate was sealed. Paul had taken a mistress early in his clerical life and had five children by her: he even made two grandsons into Cardinals. He did start to take action to reform the Church but Thomas wouldn't live to see him preside over the start of the Council of Trent, a decade after his death.
Conclusion
Sometimes we can think the Church is teetering on collapse but reading this complete disaster of the Church it becomes obvious that God is protecting her. Anything of mere human creation would have collapsed multiple times just in Thomas More's lifetime. We have several other periods in Church history where a human papacy would have collapsed, such as the decades in the tenth century aptly known as the Saeculum Obscurum (the Dark Age).
Thomas More rapidly went from second to the king, to death simply because he insisted on maintaining that the Pope, not the King, was the head of the Roman Catholic Church. Within the course of a year, he was imprisoned, given a show trial, and executed. That is loyalty to the true Church.
We recognize him as a hero and a saint. He was. His virtue is more heroic when we realize the individuals ruling the Church at the time. More saw that the truth of the Primacy of Peter and the unity of the Church were important dogmas even when unworthy men were Archbishops, Cardinals, and Popes.
Likewise, when we see problems in the Church, we should not act by trying to break off from it but reform it and stick to it. If Thomas More was able to stick through the Renaissance Popes, we should be able to stick through whatever problems we see in the Church.
St. Thomas More, pray for us.
Note: please support me to write more articles like this via Patreon: $2 a month gets you my weekly news summary.