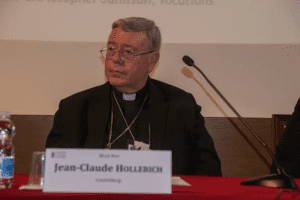 I wrote a piece over on FrMatthewLC.com in response to Card. Hollerich claiming the Church's teaching on homosexuality is outdated. Hint: he does not understand it. Here is the start of it:
Last week, another leader in the Church has suggested we should change our teaching on homosexuality. However, "should" implies there that the one doing the action is able. However, the Church has no power to change her teaching on homosexual relations.

Let's look at what the Cardinal said, look at the Catechism, look at magisterial teaching, and note what a change would imply.

Card. Jean-Claude Hollerich on Homosexuality

Recently KNA, a German Catholic news source, interviewed Card. Hollerich. He stated, "I believe that the sociological-scientific foundation of this teaching is no longer correct." But, where did he get that the foundation of the immorality of sexual acts between persons of the same sex was sociological-scientific? The moral issue goes much deeper than mere sociology or whatever aspect of science he refers to.

Hollerich is far from the first bishop to propose this. I've written about Bishop Franz-Josef Overbeck of Essen in 2019. In 2021, CNA interviewed me about Bishop Peter Kohlgraf of Mainz.
Read the rest over there. I will be posting more and more over there and less here. So, bookmark it and subscribe over there.