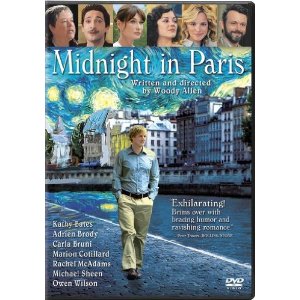 Bottom Line: Woody Allen is back in his groove with the enjoyable "Midnight in Paris."
The Gist: On a vacation in Paris, the male half of an engaged couple (Owen Wilson) finds a portal to the literary past and spends his nights drinking with Hemingway and Fitzgerald. He meets a flapper girl whose own fantasy goes even further back in Paris's past.
The Verdict: Watch it. The fantasy of slipping into 1920s Paris with literary greats and a continual movable party delights. Less existential moping and more fantasy is definitely a good thing for Woody Allen. This movie is a platter of intellectual petits fours.
Be Aware: Rated PG-13 for some sexual references and smoking. The engaged couple clearly cohabitates and discusses sexual issues, including affairs. Sex is not shown but is occasionally discussed, but is not a big part of the film. Appropriate for some teens, depending on your family comfort with depictions of adult unmarried sexual relationships.