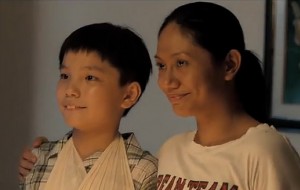 As the candy bar ad campaign from the '80's so crucially reminded us, sometimes you feel like a nut, sometimes you don't. When it comes to movies, sometimes a space adventure or police saga hits the spot. At other times, a domestic drama giving us a realistic look at the travails and transitions of an ordinary family is equally welcome. Ilo Ilo is a film for those latter times, and a very good film at that.
In 2014, this movie genre has been represented on American screens by the likes of Boyhood and Love Is Strange, placing Ilo Ilo in excellent company. As I mentioned in my review of Love Is Strange, such movies make the struggles of their particular individuals universal, allowing us to reflect upon our own relationships and ways of coping with inevitable change.
Ilo Ilo places under the microscope an ordinary middle class family from the small Southeast Asian island nation of Singapore. Set in the late 1990's, as the regional economic bubble was popping, both the father and mother are constantly aware that their way of life is in jeopardy. Teck knows that his employment status as a traveling salesman is precarious. Hwee Leng is just as aware of her job insecurity, since as office manager, she's the one busily typing up all those termination letters.
Their 10 year old son, Jiale, carries his own inner turmoil. Like preadolescents the world over, his grief (in this case, over the recent death of his grandfather) can't come out in words. Instead, it emerges in defiance and misbehavior, both at home and at school. It surely doesn't help matters that his mom is pregnant, so he'll soon lose even more of her already diffuse attention.
Into this tense mix is added young Teresa, an immigrant hired to lighten the load at home for Hwee Leng and Teck. Having just departed the Philippines to try and improve the economic situation for both herself and her infant son (left behind and entrusted to family), this is Teresa's first stint as a maid.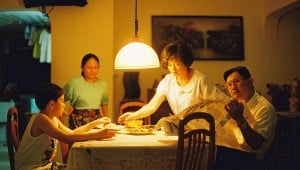 Young Jiale angrily resists the newcomer, especially since she'll be sharing his bedroom. When he's not speaking rudely to her, he's biking away from her to escape doing homework (and getting struck by a car for his troubles) or risking her legal status by stuffing shoplifted items into her handbag.
Though life is not easy for any of these characters, it's consistently interesting to watch events unfold for this foursome over the course of the months depicted in Ilo Ilo. Hwee Leng initially treats Teresa with mistrustful condescension (quite uncomfortable to witness, actually), but grows to respect her and even show her a modest degree of tenderness. For Teck, Teresa carries a secret, knowing that he's started smoking again but is hiding this from his wife.
Most significant and most touching is the transformation of the relationship between Teresa and Jiale. Unsurprisingly, at least in retrospect, a half-maternal, half-fraternal bond blossoms between them. Jiale appreciates the horseplay and loving touch that he's missing from his preoccupied father and mother. Conversely, Jiale stands in for the son that Teresa so agonizingly pines for.
Director and screenplay writer Anthony Chen has stated that Ilo Ilo is substantially autobiographical. Like many middle class Singaporeans, he was largely raised by his family's maid. The authenticity arising from Chen's lived experience shines through every segment of Ilo Ilo.
Chen also elicits superlative performances from each of his four leads. The three adult actors are all well-known professionals in the region, while Koh Jia Ler (as the boy Jiale) is a complete newcomer to acting. All four of them convincingly inhabit their excellently fleshed-out, mentally demanding roles.  Though they plausibly fluctuate from endearing to selfish, depending on circumstances, it's impossible not to empathize with the totality of each persona in Ilo Ilo.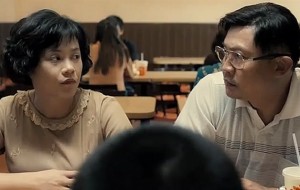 The actors' naturalistic performances are enhanced by the unshowy style of Chen's direction, utterly appropriate for this film. Only twice are we drawn out of this "real world" sense of things. The second time is most notable, occurring when Teresa witnesses a despondent businessman leaping from their apartment building. After the horrible blur and thud, the screen around Teresa turns completely white, reflecting her inner state of numb shock.
At the 2013 Cannes Film Festival, Anthony Chen was awarded the Camera d'Or, given to the best first feature film. Deservedly so, in my opinion; for one thing, it's rare that a movie realistically shows us how hard it is to work today. Not in the physical sense so much, but rather the emotional fragility of the whole endeavor, as we're prey to the choices and whims of company, boss, and customer. More sobering and taxing still are the struggles of the Teresa's in our midst, working long hours with zero to minimal days off, and even then, barely earning enough to justify separation from family.
As in Ilo Ilo, we are helpless to prevent on-the-job wear and tear from spilling into our most intimate relationships. Perhaps in viewing such a film, we will have more compassion for our fellow workers, and maybe, too, for ourselves.
4 out of 5 stars
(Parents' guide: Ilo Ilo has not been rated by the MPAA. It has a few brief scenes of violence and minimal swearing. I would feel comfortable allowing my teens to watch this.)