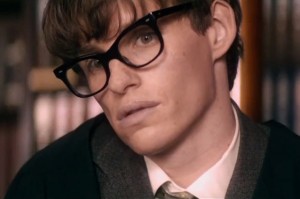 Spoiler alert:  significant plot revelations about Stephen and Jane Hawking's marriage ahead!
And here I was, all geared up to adore The Theory of Everything. A biopic about one of our greatest living scientists, a noted freethinker who has transcended immense physical limitations and inspired millions? What's not to love?
Well, for starters, let's accentuate the positives. Topping the list of good stuff has to be Eddie Redmayne's breakout performance as Stephen Hawking. As the film begins, Hawking is a daredevil bicyclist whose incipient motor neuron disease only shows itself subtly, in a bit of clumsiness with a coffee cup and a crabbed chalkboard scrawl. As The Theory of Everything progresses, so do the weaknesses and deficits in Hawking's voluntary muscles. Redmayne truly amazes in portraying Hawking's physical devolution, from being able to do a controlled slide down the stairs of his home and hobble slowly around Cambridge using two canes, until he requires a motorized wheelchair and can only communicate with his now universally-recognized artificial voice.
Quite admirable, too, is Felicity Jones as Jane, Hawking's girlfriend then wife. Her demureness couches a mental toughness that allows her to withstand the rigors of joining the intellectually elitist Hawking family and push her man past the shock of his grim prognosis. In her devout Church of England adherence, she also good-naturedly endures Hawking's playful ribbing about her faith and church attendance (he describes his love of cosmology as "religion for intelligent atheists" and God's alleged sovereignty as "celestial dictatorship").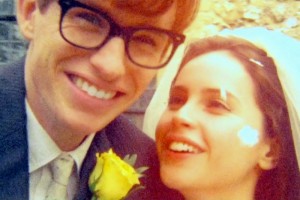 Across years of marriage and child-rearing, the strain and fatigue of caring for a gravely ill spouse come through clearly in Jones' depiction of Jane. I appreciate, too, the emotional authenticity of the Hawkings' waning and wandering affection. As their neighbor Jonathan (Charlie Cox), local choir director and recently widowed, offers practical and moral support to overtaxed Jane, it's unsurprising that romantic feelings spring up between them. Sad though it is, infidelity (or at least the temptation towards it) is remarkably common in marriage, yet most movies shy away from conveying this honestly and empathically.
But here's where the flaws begin. Unfortunately, Stephen, Jane, and Jonathan are the only characters who are substantially fleshed out in The Theory of Everything. Stephen and Jane's three children, in their running and bustling energy, are primarily served up as a counterpoint to Hawking's limited mobility but never presented as distinct individuals. Hawking's Cambridge classmates are scarcely named, let alone given personalities.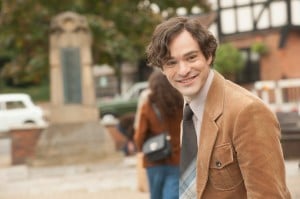 Dennis Sciama, Hawking's doctoral advisor, was obviously an important figure in his mental development. However, the skilled actor David Thewlis is given little to do in playing him. Indeed, wearing black robes and roaming about ancient British academic buildings, we're reminded that Thewlis served largely the same function for Harry Potter, yet sadly was given more emotional range as Professor Remus Lupin.
Director James Marsh's stylistic choices also present problems. While I liked his use of grainy home movie-esque footage to bridge the passage of years, his manner of lighting his sets rapidly becomes distracting. Way too many scenes are lit up as if taking place either at dawn or in the gloaming. I'm not sure what Marsh was trying to achieve with this: perhaps a Dead Poets Society type of romanticism, or maybe haloing Hawking as a secular saint? I suspect a bit of both.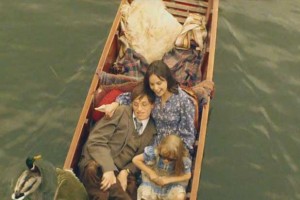 Most damaging to this film, however, are the biographical omissions. As noted above, I appreciate The Theory of Everything's forthrightness in showing us Jane's infidelity. Strangely, though, the film becomes cagey around Hawking's extramarital conduct. Even a quick jog around the internet reveals that Hawking is far from a saint, sometimes displaying drastic mood swings, bullying arrogance, and childish boorishness. This Vanity Fair article is an excellent source of background information; don't overlook the details about his second marriage and the identity of his second wife Elaine's first husband. (Unsurprisingly, too, for the many who've attempted and failed religiously mixed marriages, the differences between Hawking and Jane were not always expressed as sweetly as this film would have us believe.)
What's good for the goose is good for the gander. If a biopic is going to show us Jane's flaws, an impartial film will share Hawking's shortcomings, too. If Hawking is uncomfortable with this, then perhaps The Theory of Everything should've either focused only on his scientific achievements or waited until the principal players are long deceased.
I suspect the truth about Hawking's character resides somewhere between The Theory of Everything and his Vanity Fair profile. Heck, Hawking has been willing to playfully skewer his celebrity in self-deprecating guest roles on The Simpsons and The Big Bang Theory, so he obviously has a decent sense of humor about himself. But director James Marsh's choice to sanitize Hawking and bathe him in a saintly glow leaves me wondering if even we freethinkers (questers after unvarnished Truth, no matter how painful, right?) feel uncomfortable with the reality that our godless heroes possess feet of clay.
3 out of 5 stars
(Parents' guide: The Theory of Everything is rated PG-13 for "some thematic elements and suggestive material," which seems about right to me.)