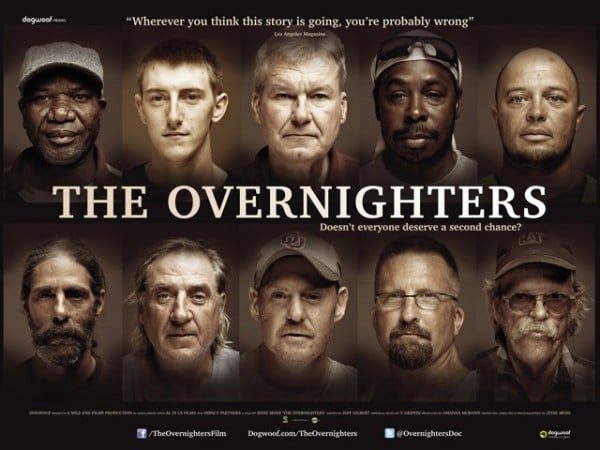 Guest post by Kenny Miles
What if Christians truly lived out the commands of Jesus instead of just preaching them? With the resurgence of faith based movies, it is appropriate that a documentary about faith in action causing a stir in the real world is garnering attention. The Overnighters, features a main character, a pastor, living out his faith for his community with compassion. Yet, not all residents in his town act like Jesus welcoming the strangers. Pastor Jay Reinke of Concordia Lutheran Church inWilliston, North Dakota provides oil workers who have migrated for employment a place to stay – on the floor of the church sanctuary.
The housing shortage in the area makes it challenging for people who work in Williston a place to stay and putting local citizens in an uncomfortable position. The oil boom has brought the rejects from society seeking a second chance to make a living for themselves. With pressure from City Council and even division among his own congregation, Pastor Reinke remains steadfast in doing the right thing by housing the homeless. This non-fiction account also merges serious, contemporary American issues. One of the best documentaries of the year, this authentic and vulnerable form of that Christianity is on display in this fascinating and challenging documentary.
Winning a Special Jury Prize for Intuitive Filmmaking (US Doc) at Sundance in January, The Overnighters has screened at numerous film festivals throughout the year winning awards and gaining a groundswell of support from audiences. Acquired by Drafthouse Films, they are distributing the documentary in a slower than usual, roll-out limited release during the prime of awards season. I had an opportunity to ask questions to director Jesse Moss immediately after Sundance about The Overnighters via email including challenges in making this documentary, the complexity embedded in the storytelling, and what Christian audiences should understand about it.
Director Jesse Moss discovered Pastor Jay Reinke through a clergy column published in the Williston Herald. In the newspaper article, Pastor Jay asked the residents to welcome these strangers just as Jesus would. The director called Pastor Jay and he was invited to visit the church. The footage and the story encompass the fascinating storytelling in The Overnighters.
While filming, Jesse Moss wasn't sure what he was getting himself into. As a multilayered and complex documentary, The Overnighters covers a multitude of topics including immigration, economics, masculinity, community, and congregation. Moss always wanted to remain focused on the actually story and knew he was capturing something familiar yet powerful.
"The moment I set foot in the Church and met Pastor Jay and some of the men who were staying there, I felt I was witness to something extraordinary," Jesse Moss said. "Not all of the themes were evident in my first visit, but I could sense that there were strong forces converging on this one, small place. And Jay's honest and openness with me suggested that he could provide a window into the story that was playing out with The Overnighters – a story that spoke powerfully to America in this moment in time but also echoed our history as immigrants traveling to new lands in search of opportunity."
Challenges usually abound with making a movie especially a documentary. Jesse found it difficult to be a one-person film crew usually recording the footage on his own. It made sense since he was filming a documentary about homeless due to an overcrowded, tiny town that he didn't have a place to sleep himself.
"It was very challenging, but also liberating, to work alone in North Dakota. I functioned as a one-man-band, shooting, directing and recording sound," he said. "This accounts for the intimacy of the film. But it was not always easy to be on my own. Also, it was hard to find a place to sleep in Williston. All the hotel rooms were booked solid by oil companies. I asked Jay if I could sleep in the Church, and he agreed. Funding the film was a challenge. Without knowing the outcome of the story, it was hard to convince funders to support the project so it was a sweat-equity production. Fortunately, I had a few people who truly believed in the film."
There's a moment toward the end of The Overnighters where the documentary takes the audience to an unexpected place as the viewer and Pastor Jay must confront a stark reality. It involves a sudden revelation and shameful brokenness. It is within these moments that The Overnighters features desperation but also the need for grace. Jesse Moss understood the rarity that a documentarian captured such complexity of a subject matter.
"I always knew that Jay was a complex character," he said. "That's what drew me to him – his self-awareness. But I had no idea how complex he was and how layered the story would become. But I was attracted to the story because it seemed to contain so much: faith, community, redemption, compassion. Could one film contain multitudes? I hoped so."
With the revelation garnering a lot of the attention from viewers, Jesse Moss wants audiences, especially Christians, to understand the biblical values encompassed in The Overnighters and within Pastor Jay. And not only to understand it, but to grasp what it means to live it.
"I would like audiences to reflect on what it truly means to practice and not simply preach the Christian ethic that demands we 'love thy neighbor' – and consider that the choices we all make in our own lives to help the less fortunate are not ever, easy choices. But they are often the right choices. Also, we live in an imperfect world that does not divide neatly between good and bad," he said.
The Overnighters is a movie that will invoke thought provoking conversation among both Christian and non-Christian audiences alike. Social justice conscience believers should make The Overnighters a must see documentary.  It is currently playing in limited release and expanding into more markets soon.
Kenny Miles is a staff writer for The Movie Blog.com and occasionally contributes to The Epoch Times. He resides in Denver, CO.