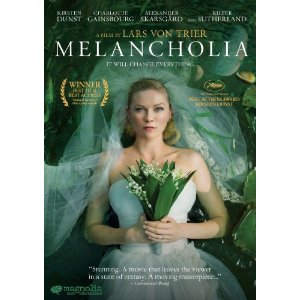 Bottom Line: Beautiful, epic, and relentless in its worldview, Melancholia is the logical and depressing end point of a philosophy that believes humanity is just a sad accident of the universe.
The Gist: Presented in two acts. The first shows Justine (Kirsten Dunst) trying and failing to care about her wedding. Pitch-black humor and wicked characterizations of people back up her suspicion that nothing matters and humanity is evil. The second act takes place as the Earth watches a giant planet that may or may not be on a collision course with our planet, one that would wipe out all life.
The only rational person in the movie is Justine, who knows and accepts that life is meaningless and the universe empty. The end of human existence for her is a consummation greatly to be desired.
Two points betray inherent contradiction in the film: One, Justine is heroic and kind in her desire to spare her nephew fear as the world ends. So something does matter. One thing matters, him not feeling fear. The premise of the movie is nothing matters, but he matters very much, so there's some contradiction there.
Secondly, Justine believes humankind to be completely evil (in line with the total depravity of man that Calvin taught, but I digress). Evil is a term and concept with meaning. If there is such thing as evil, then there must be something being violated. Evil matters. Evil cannot exist without some sort of existence of good.
MELANCHOLIA is the opposite side but the same coin as TREE OF LIFE. both look at the same cosmos, both deal with large themes and ideas, but reach inherently opposite conclusions.
The Verdict: Watch it. It's artsy and mind-blowing and depressing, but it's excellently made and it's about ideas, which is more than we can say about "Mr. Popper's Penguins."
Be Aware: Rated R for graphic (but artsy) nudity, language, and sexual content. A grown-up movie for adults.