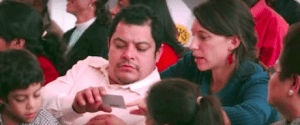 Faith Action International in Greensboro, NC has pioneered a community identification program to address the problems that undocumented immigrants often face in their local communities.
Like similar efforts for local ID cards in Los Angeles; Hartford, CT; and Winston-Salem, NC; Faith Action's program began with the recognition of the vast gulf that existed between undocumented immigrants and the local police in Greensboro.
The Rev. David Fraccaro, the Executive Director of Faith Action International, recognized the deep distrust that marked the relationship between immigrant and refugee families in Greensboro and the local police. Some of the undocumented immigrants described the police as "like sharks" and that "they're out to get us."
Fraccaro sought to find a way to build relationships between undocumented members of the community and the local police officers – relationships that could, hopefully, bridge the massive distrust that existed on both sides.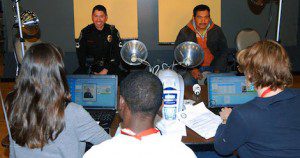 Police captain, Mike Richey, and others in the Greensboro Police Department have been working in partnership with Faith Action over the past several years to initiate dialogues between immigrants and police that seek to build relationships, and ultimately trust. After all, trust is the foundation of healthy communities.
The local police in Greensboro are more interested in the health and safety of the local community than in policing the immigration status of community members for the federal government. It is difficult to keep your community safe if undocumented community members are afraid of the police. When people are afraid of the police, they aren't likely to reach out to them to when they see crimes being committed in their neighborhoods, if they are victims of domestic abuse, or if they are being mistreated by their own employers.
Richey told one group of community members who came to get their new ID's "Your immigration status does not matter to us, to the Greensboro Police Department. And we want you to have confidence in us, so you'll come to us if you've been victimized because of your immigration status."
But the importance of the ID's extends far beyond the new trust that is being built between immigrants and law enforcement. In addition to not being able to "prove" who you are without some recognized ID, there are also many services that people cannot access in a community without an ID, including check cashing, prescription medicine, libraries, and social service agencies.
There are myriad reasons why people might be undocumented and the longer one is undocumented, the more difficult it is to begin to establish a pathway towards citizenship. The first woman to receive an ID, Maggie, came to the US when she was three years old. After being removed from her home for abuse by an uncle, she entered into the oversight of social services and bounced around between various foster homes and group homes until she was 18. It was then that she realized no one had pursued her citizenship application and she had no documents to prove who she was.
Stories like Maggie's are legion.
Faith Action has issued over 2,000 ID cards to community members from more than 30 different countries thus far.
This program and others like it, is directly under threat by NC House Bill #318 which seeks to disallow police and government officials from accepting community IDs as valid forms of identification.
This bill undermines the ability of local law enforcement to address the health and safety of their communities by working in partnership with local non-profits to issue ID cards that help community members gain access to essential services. Instead of attacking these local efforts, more communities could stand to learn from the incredible strides that Greensboro and Faith Action have made in building and strengthening community relationships.
Agitation about immigrants, refugees, and newcomers to our communities in the US is elevated in light of the Syrian refugee crisis and a number of the Presidential campaigns. As a nation of immigrants, we should remember our own origins. As Christians, we should remember the charge to "love our neighbors as ourselves."
Let us not be driven by fear and prejudice. Let us remember our heritage as a country of immigrants. As people whose own ancestors came to this land fleeing poverty, hunger, political and religious oppression, prejudice, and war.
Let us instead be inspired by hope and the possibilities for a better future that we can help to offer to those immigrants and refugees who seek our shores. Let us instead seek to stand in solidarity with our newest neighbors and to reach out in friendship and concern by getting to know immigrants and refugees and sharing our stories with one another.
Let us support the community agencies in our cities and towns like Faith Action International, Church World Service, and so many others that seek to assist new immigrants in their transition into our communities and our nation.
Shame on the NC legislature for seeking to make life explicitly harder on our newest neighbors. If you live in NC reach out here to tell lawmakers to reject HB 318 which seeks to undermine the good work of faithful people in our communities working to address serious problems that immigrants face.
If you live outside Greensboro, think about instituting or participating in community dialogues between local police and undocumented immigrants and creating an ID program in your community.