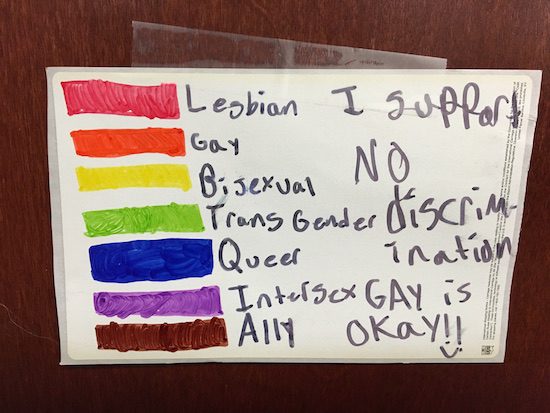 Dear President Obama,
I live in North Carolina. My youngest daughter attends a Title I elementary school that is a magnet school for open education and the arts. As a 10-year old girl who loves her best friend she has been the target of bullying for defending the right of girls to like girls.
She spent the day after HB-2 passed making rainbow signs that said "I support NO discrimination. Gay is okay!!" Later that week, she wore an "I'll go with you" button to school indicating that she would accompany transgender kids to the bathroom if they felt unsafe. I was proud of her and thought it was sweet that she wanted to wear one to school. It was a statement of what she believes in.
When she came home from school that afternoon she told me that one of her best friends had thanked her for wearing the button. She told her that she was transgender and transferred to their school a couple years ago when she transitioned. My daughter was the first person she had told about her gender identity at the school she had been attending for two years. She said she felt safe telling my daughter and was so glad to be able to tell someone.
I was dumb-founded. A transgender 10-year old at my daughter's Title I school?! A kid so worried about bullying even her teachers didn't know her situation. I was so proud of my daughter and her passion for justice. While I was ashamed of the NC legislators who had rushed HB-2 through and the governor who had signed the bill practically in the cover of darkness, I was proud of the Supreme Court and the recent gains in human and civil rights that have been made in our country regarding LGBT people. Social change is a slow process and it is harder to change hearts, minds, and feelings than it is to change the law.
I am a professor of Christian Ethics at Elon University in North Carolina. I am also an ordained Presbyterian Church (U.S.A.) minister, a mother, a wife, a daughter, and an active citizen in my community.
I have dedicated my life, personally and professionally, to advocating for justice. I do this by teaching students about the intersectional nature of the problems of racism, violence, poverty, and sexism that plague our country and our world. I write a blog devoted to discussing issues of justice in our nation and abroad. I write books and articles about poverty, reproductive justice, violence, racism, and climate change. I speak and preach and protest and sing and worship and lament with my children, with my students, in my community and in other communities as I seek to live a life deeply engaged in seeking the transformation toward justice that the prophets and the gospel challenge us to seek.
As a white woman from the South, I have chosen to make my home and my life's work in the South to be part of the social change that is so necessary in the world. I believe in the power of grassroots social change. I believe in the power of people to be the change that we wish to see in the world. I teach this to my students, I teach this to my children, and I preach this from the pulpit. This how I try to live my life.
The events of the past four years and the emergence of the Black Lives Matter movement have pushed the problems of racial injustice to the forefront in our nation in a way unprecedented since the 1960s.
The events of the past week, however, must mark a tipping point in our society. The problems that we face are not about the police. We do not need to wait on the outcomes of trials against individual police officers. The problem that we face is not about individual police officers. The problem that we face is the problem of racial injustice, a problem that is increasingly becoming a problem of xenophobia in this country.
This problem of prejudice and intolerance is about the soul of our nation.
We need more sermons about race, racism, racial justice and how and why black lives matter.
We need to teach our children the history of our country and denounce the hatred, intolerance, and inhumanity of slavery. We must recognize how this history has damaged us as a nation.
We must recognize and identify the ways in which the racial injustice of our past continues to shape our present.
We need community task forces on racism and racial justice.
We need church task forces on racial reconciliation and justice.
And yet, all of these things are happening. Communities across the country are responding – with protests but also with more constructive responses. Task forces are being established. Individual police officers are reaching out to broach the divide. There are church task forces and sermons are being preached. Professors are teaching about race, racism and racial justice in our classrooms.
But like all endemic social problems, the racial injustice and xenophobia that is crippling our nation must also be recognized and addressed at all levels of the country.
The country needs the President to do something. I need you to do something. Your statements are important but they are not enough. Being the first black president is important but it is not enough. Your moral witness and courage in the face of this very same racial prejudice has been incredibly inspiring but it is not enough.
We need a Presidential Commission on Racial Justice. Not just filled with important and well-recognized names. We need a Presidential Commission that will bring together scholars, activists, religious leaders, educators, social workers – people who have a history of working on these problems; people who know how to listen to one another; people who are committed to developing meaningful strategies for social change that move us through the divided rhetoric of Black Lives Matter vs. All Lives Matter and into a rhetoric focused on solidarity that recognizes what we share as a nation and respects the unique contributions that difference can make to a community.
In your last six months in office you have the opportunity to do something that could have a lasting impact on the problem of racism and xenophobia in this country. I strongly urge you to establish a Presidential Commission on Racial Justice and to task it with developing strategies for social change that address the deeply embedded structures of racism that have shaped this country from its founding.
With hope,
Rebecca Todd Peters, Ph.D.
Professor of Christian Ethics
Elon University, NC
A much shorter version of this letter was sent to President Obama via the White House website which had a limit of 2500 characters.