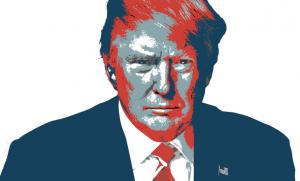 We Didn't Have a "Choice"
In the aftermath of the 2016 election many evangelicals claimed that with Hillary on the ballot, they had no choice but to vote for Trump. One prominent evangelical went so far as to systematize and categorize the many reasons that evangelicals dislike Clinton.
Apparently, there are six such categories ending with the simple "we just don't like her." It has become a well-worn fact that eighty-one percent of white evangelicals voted for Trump. A statistic that absolutely floored me and many other non-Evangelical Christians after the election.
Trump is the "Dream" President – Really?
However, the fact is Hillary has virtually disappeared from the national political stage and Evangelicals continue to support Trump in record numbers undermines any credibility that white evangelicals are "values voters."  At least with regards to any values that I have ever known to be associated with Christianity.
Jerry Falwell Jr. even dubbed Trump evangelicals' "dream President." This is baffling to anyone familiar with the traditionalist politics and rhetoric of the Moral Majority. The Moral Majority, which was spearheaded by Jr.'s father, was notorious for its moralizing against gays and lesbians, feminists, abortion, and other issues deemed "sinful" by Falwell's conservative, traditionalist brand of evangelical Christianity.
But, it appears that philandering, participating in prostitution, sexual assault and generally boorish behavior are ok with Falwell and his crowd of evangelicals.
This new generation of evangelicals – the Trump-evangelicals – don't seem to care about personal character at all. Their primary interest in promoting an ideological agenda of capitalist individualism has eclipsed any capacity to recognize the common-sense values of decency, kindness, and radical love of the stranger that marked the ministry of Jesus.  The man these men claim to follow.
Ideology Trumps Christianity
While I have no love lost for their fathers (Billy Graham and Jerry Falwell), the fact that the sons – Franklin and Jerry, Jr. actually supported the campaign of Roy Moore in Alabama, who was largely regarded as a sexual predator, raises serious questions about the morality of this generations evangelical leaders.
The fact that evangelical support of Trump is at an all-time high now, 18 months out from the 2016 election speaks to a deeply dangerous fact about evangelicalism in America today. Ideological commitment to capitalism and individualism has "trumped" the majority of evangelicals ability to recognize the radical call of the gospel and the prophets to love of neighbor and shaping our society in ways that care for the least of these.
Christian Values I was Taught
I think about the words of the benediction that my father spoke at the end of every service while I was growing up:
Go out into the world in peace;
have courage;
hold on to what is good;
return to no one evil for evil;
strengthen the fainthearted;
support the weak, and help the suffering;
honor all people;
love and serve the Lord,
rejoicing in the power of the Holy Spirit.
It is a simple but profound message of what I learned is the heart of what it means to be a Christian.
Who are the fainthearted in our world if not the working poor?
The weak and suffering, if not sick people without access to healthcare?
How hard is it really to honorall people? Isn't that simply the most basic task of being human?
And yet, Trump fails. Daily. In spades.
I see very little of this compassion in our President and less of it in my sister and brother evangelicals who claim to share a faith tradition with me.
It is beyond my comprehension how evangelicals can actively support a man who regularly denigrates and demeans women (including his wife), actively vilifies people he disagrees with, and who is generally a petulant and mean-spirited person and a dangerous political leader.
Our Trouble is Far Bigger Than Trump
The problem goes far beyond Trump himself. The problem lies in the fact that such a large majority of Christians seem to have so lost touch with the message of Jesus that they think a man like Trump should be our President.
Right now, I need all the courage I can summon because I am sore afraid of my fellow white Christians.
SaveSave
SaveSave
SaveSave
SaveSave
SaveSave
SaveSave
SaveSave
SaveSave
SaveSave
SaveSaveSaveSaveSaveSave
SaveSaveSaveSave
SaveSave
SaveSave
SaveSave