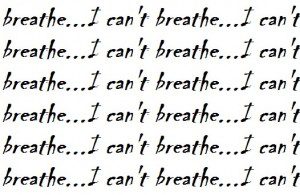 We often take breathing for granted, unless we are like Eric Garner. His dying words haunt our nation's conscience: "I can't breathe … I can't breathe." Breathing is just something we do. We also take speaking out freely for granted. But I wasn't taking breathing or speaking or responding freely for granted yesterday at church.
People were breathing and responding freely yesterday at church as the preacher preached passionately on Matthew chapter 2. The preacher, Rev. Leroy Barber, was talking about Herod and the wise men and the news of the Messiah's birth. There was a lot the preacher had to get off his chest as he brought it home from Bethlehem in Judea to New York City and Ferguson, Missouri. One of the points that came home to me from his message was that all too often the in-crowd of political and religious leaders seeks to manage the truth and keep it from breathing and spreading. As a religious leader, this is something to which I can easily fall prey.
Herod sought to manage the truth about the Messiah so that he could choke and kill the Truth. Where was the religious establishment? Did they align themselves with Herod? Did they know about his plan to kill Jesus? Did they speak out against his plot? Were the wise men from the East and other outsiders like the shepherds the only ones who rejoiced in the truth of the humble Messiah, who reigns as the outsiders' God? Do we cry out at injustice? Do we rejoice in the outsiders' God today?
Occasionally, I hear sermons at Irvington Covenant Church (my multi-ethnic congregation in North Portland, Oregon) addressing the recent events in New York City and Ferguson, Missouri (here I call to mind the messages of Cole Brown and Stephanie Ahn Mathis in addition to Leroy Barber, among others). I hear the priceless breathing and spiritual groaning of African American men, as well as their litany of "Amen" in response to the sermons that address such subjects. I don't take their breathing for granted at my church in a city hailed for its going green standards where we should be able to breathe better. Still, in some parts of the city where affluent white people don't yet live, it is still not green enough. Moreover, it is not Brown enough, as gentrification forces out large segments of the African American community (See my blog post titled "The Gentrified Church: Paved with Good Intentions?" and an Oregonian article titled "In Portland's Heart, 2010 Census Shows Diversity Dwindling").
Yesterday, I reflected further on the recent events involving the Grand Jury decisions in New York and Ferguson not to indict two white police officers for the deaths of unarmed African American men, Eric Garner and Michael Brown. African American men in my circles feel like they are an "endangered species." In yesterday's church service and in protests across the land, it is like they are echoing Eric Garner's last dying words, "I can't breathe." One protest video made by Broadway stars following Eric Garner's death made the allusion to the lynching tree and its rope.
Some white folks will scoff at such allusions. But we shouldn't scoff at the fact that white people, including white theologians like me, often said nothing in response to the lynching tree atrocities committed against African American men back in the day. In fact, the lynching tree—that symbol of horror for African Americans— was condoned and even celebrated in some white Christian circles (Read James Cone's The Cross and the Lynching Tree; read also "America's 'Angriest' Theologian Faces Lynching Tree").
We must be vigilant to engage in a renewed conversation on race. We need to listen to the heart cries of African Americans, who feel endangered. I fear that African American men are endangered on the streets of our nation, courtrooms and prisons, as well as in the classrooms (from childhood on up), and job market.
We must not manage this truth and hope we don't have to deal with it. It will not go away unless we make the problem go away. The problem is not African American men. The problem is a lack of hope and opportunity and solidarity in the face of a system that all too often chokes the life out of them.
If African American men are an endangered species, we are all endangered, since all humans belong to one species. We must engage in non-violent protests of various kinds today so that we cease with the inhumanity against humanity and calloused hearts. We must also engage with a listening ear; those of us who are not African American men need to listen to their heart cry (as with such profound practical works like "Man-Up," led by Pastor Clifford O. Chappell, and the "Holla If You Hear Me" Tour and "Holla Mentors," led by Pastor Eric Knox). We must not use up the remaining oxygen in the room with repeated denials of African American men's experience. We must also remove the chokehold in our society before it is too late. While we cannot ask Eric Garner now if he can breathe, we can make sure he did not die in vain if we openly, steadfastly and repeatedly ask African American men who are alive: "Can you breathe now?"