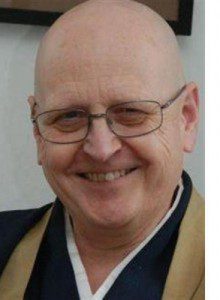 One of the greatest honors I have received is to have been given the responsibility of providing one of the eulogies at Abbot Kyogen Carlson's memorial service on November 6th 2014. I am grateful to his widow Abbot Gyokuko Carlson (who currently serves as the Kanin, or Director of Dharma Rain Zen Center, where Kyogen also served), and to the rest of my friends at Dharma Rain and the larger Buddhist family. Many things stood out to me that evening at the memorial service as we remembered Kyogen together: the community's profound love for their teachers and friends Kyogen and Gyokuko, their deep respect for their Buddhist tradition, and their poignant state of mindfulness integrating sobriety and gaiety befitting Kyogen's seriousness and playfulness. I am thankful for the ongoing bond I have with Kyogen through them.
With Palms and Hearts Joined: A Eulogy in Honor of Abbot Kyogen Carlson
By Paul Louis Metzger, Ph.D.
Delivered at First Unitarian Church of Portland, November 6th 2014
It is a great honor to stand before you this evening and pay tribute to Abbot Kyogen Carlson, my very dear friend and colleague. Kyogen and I first met in 2003. We were participants in a small group diversity discussion that took place in response to the fatal shooting of Kendra James by a white police officer here in Portland. Our sessions spanned several weeks and involved religious leaders of various backgrounds as well as police officials. For all our differences from one another as a Buddhist priest and Evangelical theologian, Kyogen and I shared similar approaches to multi-faith discourse. The result of those initial discussions was the cultivation of a very deep and profound friendship.
Kyogen impacted people from various walks of life, including those across the religious spectrum such as myself. Here are a few reflections from two of his friends in the Evangelical Christian community. I offer the following reflections on their and my behalf with palms and hearts joined:
"Thich Nhat Hanh said, 'When you touch someone who authentically represents a tradition, you not only touch his or her tradition, you also touch your own.' Kyogen was as authentic a man as I have ever known. He was a man who lived deeply, listened deeply, and looked deeply. I will ever be mindful of his influence." (Ronn Elzinga)
"Kyogen was a friend and a great dialog partner. As a Christian theologian who sees the nature and meaning of life differently in some ways than Kyogen did, interfaith dialog with him was always a joy for me. Even at points of disagreement, Kyogen was amazingly able to put himself in the shoes of the 'other' and to highlight shared values. I will miss him as a friend and as a model for the best kind of interfaith relations here in Portland and beyond." (Brad Harper)
Soon after Kyogen's death, I wrote a piece published at Patheos titled "Kyogen Carlson: Bridge-Builder over Troubled Waters." There I stated: "Rarely if ever have I encountered a contemporary who sought to step into other people's shoes and see life as they did. He called many of us Evangelicals to take biblical stock of our Lord Jesus' compassion and his incarnate love of stepping into our shoes to experience life through our eyes. As the Bible and Kyogen have shown me, it is easy to pass judgment; it is not so easy to pass over judgment and even undergo people's judgment by seeking to build reconciling bridges through apologies, forgiveness, and understanding. Not only did Kyogen call to mind the Bible, even as he drew from his Buddhist sutras, but also he taught me so much about human dignity and how to approach people as people with all their complexities. They are not the cardboard cutout placards that the culture war factions bear into battle as they shoot poisonous arrows of ridicule at one another. Kyogen taught us that it takes far more courage to listen. He also demonstrated that listening is a form of love."
Something died in me when Kyogen passed away. My wife said to me after Kyogen's passing that he was Portland to me. Our stories were so intertwined… I miss our conversations at pubs and at potlucks involving Kyogen, Gyokuko, our communities and me, where we shared heart to heart, life on life. As with you, the loss of Kyogen leaves a gaping hole in my life and work.
Further to what was stated above, Kyogen was a bridge-builder over troubled waters. Such bridge-building endeavors were on display in his work addressing culture war conflicts between the Left and Right, including Buddhists and Evangelical Christians. Tricycle Magazine: the Buddhist Review referred to us as "the odd couple." I'm not sure which one of us was Felix and which one of us was Oscar. As Kyogen stepped into the shoes of Evangelicals like me to see life as we do, he stepped into the boat and rowed with me upstream against the currents that demonize, objectify and polarize people on opposite ends of the spectrum. For Kyogen, mindfulness involved moving toward the center of existence, not the extremes on various sides.
Prior to the Presidential elections in 2012, Kyogen and I co-authored an Opinion piece for The Oregonian. There we wrote, "So often, people take stands to prove their point or to win votes rather than to go in search of common ground for the common good. How do we move beyond the impasse? We must share space and time, share our hearts and values, and share our faults while looking for the good in others so that we move beyond the fault lines. In other words, in religion and politics, we must share our common humanity. Only in this way will we be able to navigate effectively the intersections of life. And just possibly, as we navigate well, we might be able to take the same turn from time to time as we [steer] in search of the common good."
Regarding the work Kyogen and I did together in building bridges over troubled waters, there is a sense in which I feel tossed about, looking for him to build bridges and paddle with me. I feel so lonely…
As I told a few of you recently, you are my connection to Kyogen now. I hope and pray that you will take up his paddle and row with my community and me over the troubled waters of our human existence. Kyogen often closed his correspondence with me with the words, "With palms joined." May we honor him with palms, arms and hearts joined.