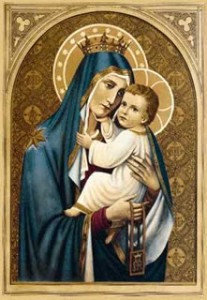 The Bright Maidens (a blogging network of young Catholic women) are writing about scapulars this week, and I figured I'd poke my nose in. A scapular is a piece of cloth worn around the neck. It is a sacramental (an instrument of grace, like holy water or some blessed medals). The one all the bloggers seem to be focusing on is the Scapular of Our Lady of Mount Carmel (also called the brown scapular).
The virtue of this scapular was supposed to have been revealed to St. Simon Stock in 1251 when an apparition of Mary told him:
Take, beloved son, this scapular of the order as a badge of my confraternity and for you and all Carmelites a special sign of grace; whoever dies in this garment, will not suffer everlasting fire. It is the sign of salvation, a safeguard in dangers, a pledge of peace and of the covenant
To the best of my knowledge, the Catholic Church has not certified or denied that the brown scapular is a Get-Out-of-Hell free card, but it's easy to see how people get that idea. I find this strain of salvation theory to be totally bizarre.
The scapular smacks of gamesmanship, the same kind of weird salvation-optimization that led people to delay baptizing their children on the grounds that they would be a waste to cleanse innocent children of sins. Better to put the sacrament on hold until the children were past the age of reason and preferably in imminent danger, so it would have maximum salvic impact.
It's pretty easy to make a negative, reducto ad absurdum case against this soteriological approach. The last time it came up. I was arguing with a relentlessly optimizing Catholic who admitted, by his own logic, he should prefer the world where I died as an infant to the one it looks like we're living in, where I remain an atheist for my whole life. In fact, in this framework, this blog, and my RCIA attendance are essentially a high-stakes gamble. If I converted, he'd be delighted, but if all this studying doesn't take, I might have damned myself by destroying any case for an invincible ignorance exemption.
Even working from within the Catholic set of axioms, I think there's a positive case that accepting this kind of salvation theory would put it in conflict with a better model. Purgatory doesn't need to be defined as a punishment – the kind of thing you want to
ransom yourself from
– it can be a crucible. Burning off the dross might be painful, but that's a side effect of the actual goal of refining your character.
Trista, one of the Bright Maidens, shared an anecdote about a scapular-wearing woman who believed that the sacramental would result in Mary plucking people out of Purgatory 'early.' Sign on to that worldview, and you've put arriving in Heaven as the telos of your theology instead of dressing up as Christ.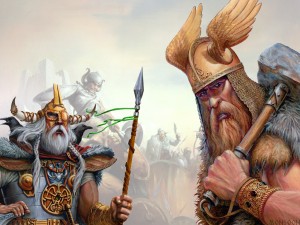 If you make your pitch on the niceties of the afterlife instead of the formation of character, don't be surprised when you lose people to Valhalla.