People who commented on this post last week might want to be careful what they wish for.   I'm going to keep an eye out for blogposts where I can highlight a pull-quote and have something positive to add, but I figured I could practice by blogging through a book that I agree with quite a bit.  (I already enjoyed doing this with Granny Weatherwax from Discworld).
So here comes a series of posts (probably one a week) on a book that made me feel just as this quote from The History Boys puts it:
The best moments in reading are when you come across something — a thought, a feeling, a way of looking at things — that you'd thought special, particular to you. And here it is, set down by someone else, a person you've never met, maybe even someone long dead. And it's as if a hand has come out and taken yours.
And the book is…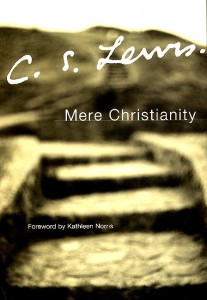 When I first read Mere Christianity, I was startled by the range of topics where Lewis seemed to capture what I was thinking about moral philosophy, except way more elegantly.  I reread the book over the Triduum, and dog-eared pages, so now we can have a solid thrashing out of what's wrong with my atheism.  (And my college friends can perhaps expand on the "Convert already!" they used to yell at me on the debate floor).