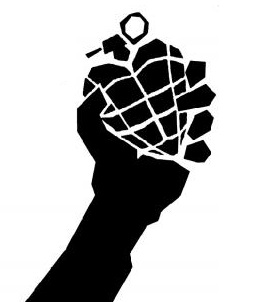 Back before I went off to awesome, wacky summer camp (a few more things to come on that, by the way), I was writing a series of posts on martyrdom, pacifism, drone strikes and other problems of offering resistance.   And it turns out, looking over some of the posts I missed, I wasn't the only Patheos blogger wondering whether you can praise courage regardless of what exactly the person you're admiring is steeling herself to do. I was talking about drone strikes and David French is talking about homosexuality.  He decides:
C.S. Lewis said that courage was not just one of the virtues, "but the form of every virtue at its testing point." In other words, courage depends on and enables virtue. By that measure, I can't call coming out (even though it is difficult for many) "courageous" because it is in almost every case a declaration of sinfulness and willful sinful activity. Not everything that's difficult or challenging to do is "courageous" — especially when that difficult or challenging thing also happens to contradict God's commands. If a husband breaks his marriage vows, alienates his friends, and runs off with the secretary, do we call that "courageous?" Why not? It's hard to do, but he's following his heart (like the culture tells us we must), and his action will cause an extreme counter-reaction from those closest to him. We might call that "audacious," but not "courageous."

To be clear, sin in one area of our lives of course does not preclude courage or bravery in other areas. Many gay men and women have courageously served our country, giving their lives for our freedom. Resisting a bully can require courage — regardless of the reason for the bullying. We're all sinful, but we're all — by God's grace — capable of courage. But it doesn't take "courage" to engage in extramarital sex.
I'm pretty confident that at least part of the comment thread is going to be a fight about the moral character of homosexual relationships, but that's not where my disagreement with French is rooted.  Regardless of whether you think that queer desires are disordered, it's bizarre to deny they're rooted in love.
There are plenty of loves we can't indulge (the married man's love for the secretary, no matter how moving, could fall in this category), but the act of recognizing and cherishing the other person's virtues is a good one, even if romantic love is not always the right way to express it.  It's hard to imagine in any framework that the introduction of eros is enough to taint and erase virtues of charity that you would laud if the relationship were entirely platonic.
Let me bring the discussion back to the battlefield and courage.
I can see virtues in a suicide bomber or a terrorist. There's bravery, obviously, but there's also a love of clan or county or just family. I think that, ideally, that love needs to be nourished and expanded until it's grown strong enough to include the enemy. But there's a good germ there. The passions may be wrongly directed, but you've got a lot more to work with than if the fighter were apathetic or nihilistic.
You can have a discussion about whether certain ways of fighting are beyond the pale or whether certain kinds of love are ultimately harmful, but any desire to sacrifice for another person seems like a first step up Diotima's ladder in Plato's Symposium.  You may be trying to offer the wrong kind of sacrifice, and you'll need to catch on to that, but the reverence is not misplaced.  If it's blinding you to the needs of people besides the beloved (person or family or country), you need to expand the scope of your love, not just tone down your infatuation.
But French won't accord queer people the recognition that I'd gladly afford to people who want my death. He is sundering them entirely from the virtues.  It seems like to me that the only fault that can cut you off that completely is indifference.