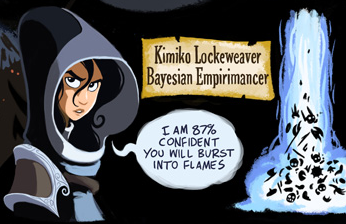 Scott/Yvain has previously written a truly delightful Dungeons and Discourses game (inspired by these two Dresden Codak comics). Here's an excerpt (which doesn't even include any of the musical numbers or the ingenious solution to Nagel's question: What is it like to be a bat?)
In his roundabout way, he identifies himself as Heraclitus, the Fire Mage, one of the four great Elemental Mages of Platonia. Many years ago, he crossed into Origin on some errand, only to be ambushed by his arch-enemy, the Water Mage Thales. Thales placed a curse on Heraclitus that he could never cross the same river twice, trapping him on the wrong side of the Abcissa and preventing his return to Platonia. In order to dispel the curse, Heraclitus finds a loophole in the curse: he convinces himself that objects have no permanent identity, and so he can never cross the same river twice since it is not the same river and he is not the same man. Accepting this thesis, he crosses the Abcissa without incident – only to find that his new metaphysics of identity prevents him from forming goals, executing long-term plans, or doing anything more complicated than sitting by the riverbank and eating the fish that swim by.

This sets off a storm of conversation, as each member of the party tries to set Heraclitus right in their own way; Phaidros by appealing to God as a final arbiter of identity, Macx and Nomophilos by arguing that duty is independent of identity and that Heraclitus has a duty to his family and followers. Unfortunately, they make a logical misstep and end out convincing Heraclitus that it is illogical from his perspective to hold conversation; this ends the debate. And as the five philosophers stand around discussing what to do, they are ambushed by a party of assassins, who shoot poisoned arrows at them from a nearby knoll.

Outnumbered and outflanked, the situation seems hopeless, until Macx notices several of the attackers confused and unwilling to attack. With this clue, he identifies them as Buridan's Assassins, who in the presence of two equally good targets will hesitate forever, unable to choose: he yells to his friends to stand with two or more adventurers equidistant from each assassin, and sure enough, this paralyzes the archers and allows the party some breathing space.
He's working on a new campaign, but he's lost the spellbook he was working on.  He's asking for suggestions to flesh out the ideas he remembers, and it seemed like you might be the band of philosophy enthusiasts to take on the job.  (And, I'll confess, this feels like a fantasy-from-this-xkcd-comic come true: Only your capacity to make philosophy puns can save us now!).  Here's the kind of thing he's looking for:
It could be a violent or magic-sounding philosophical concept put into the classic Dungeons & Dragons form of [NAME]'s [ADJECTIVE] [NOUN], for example "Churchland's Psychic Elimination" or "Parmenides' Stasis Hex".

It could just be a weird but amusing idea about how to apply a philosophical idea to combat, for example "Inverse Communion" (turns your enemy's flesh into bread and their blood into wine, killing them instantly).

It could be a summons, for example "Summon p-zombie" or "Summon Euclidean Elemental"

It could be a terrible pun, for example "Catatonic Imperative" for a paralysis spell.

It could even just be anything boring from philosophy that sounds like it would work in RPG combat ("Create a trolley to run over your enemies!") and let me think of a name for it.
A good name could be a philosophical concept that sounds like a spell, for example "Pre-Ordained Harmonics".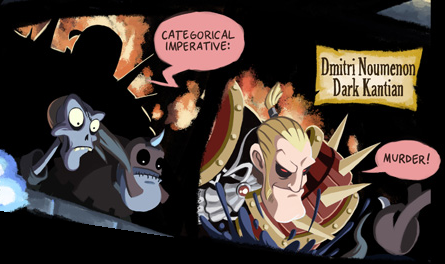 So please pop over chez lui if you have any suggestion, forward this around to other geeks, and do cross-post your suggestions here, so I can chuckle and read them to my housemates.  Here's what I've come up with so far:
Rawl's Cloak of Indifference – Throw it over an enemy, and they'll maintain their former alignment, but be unsure which party they belong to.  Roll d(number of present PCs and NPCs) to determine who they act to benefit for the next n turns
Chesterton's Diminished Poesy – if "The most poetical thing in the world is not being sick" as per The Man who was Thursday, this spell invokes lesser poetry and, presumably, incapacitating vomiting

Summon Parasitical Violinist – and the incessant bowing presumably throws off your concentration checks
and I just really want the Ship of Theseus and the Banach–Tarski paradox to turn up somewhere (possibly together)