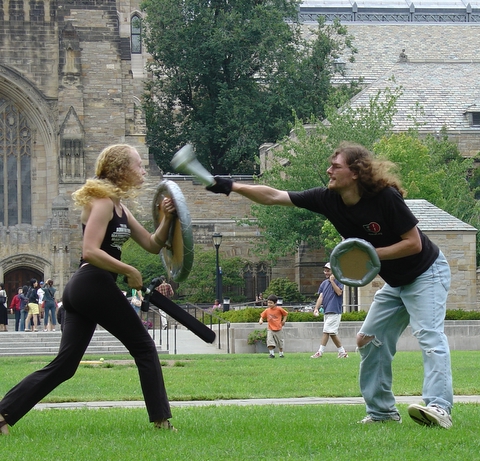 Back in September, Bob Seidensticker of the Atheist channel took on a challenge to try 40 days of prayer, and he asked some of the Christian Patheosi what we thought he needed to do to give it a fair shot. While other people talked about thankfulness and humility, I kinda ended up talking about Live Action Roleplaying (LARPing). But seriously, I find this approach helpful for considering ideas and worldviews I disagree with, and short circuiting antagonistic feelings that may keep me from looking at all the data. Here are the posts on that topic, followed by some questions for readers:
I still find the LARPing model helpful, but that's because it's a mode of thinking that's already a habit, so all I have to do is try to translate my current problem into this frame and see if anything useful results. I would guess it would be less useful if you didn't have experience playing pretend, writing (fan)fiction, spending a lot of time with speculative fiction, etc. But people probably have other curious ways of thinking that might be helpful modes to try. I'd be quite interested in readers' answers to these questions:
What does it feel like to be curious? How would you describe it to someone who spoke a foreign language if you were trying to get them to recognize the feeling so they could teach you the word?
What activities/kinds of problems seem to always make you solve them in a curious frame of mind?
Are there any thoughts/activities that tend to break you out of a curious way of thinking?
Is there anything you do when working with/mentoring other people to try to jar them into curiosity?
Are there any fiction characters (or real people) who seem to embody curiosity or who you might pattern yourself after to kickstart a feeling of curiosity? (Yes, someone's already suggested the Doctor).