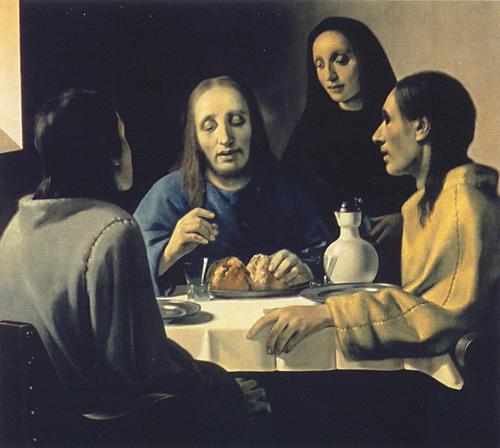 I find today's Mass readings particularly wonderful, for reasons that I think are plenty enjoyable for non-Christians, too.  In this selection of Luke's Gospel, we hear about the experience of two of the disciples who are travelling on the way to Emmaus.  They are joined by a third traveler, who seems ignorant of the recent death of Jesus in Jerusalem.  The two disciples explain what has happened, including the rumors that their teacher's body is missing.  And then…
And he said to them, "Oh, how foolish you are! How slow of heart to believe all that the prophets spoke! Was it not necessary that the Christ should suffer these things and enter into his glory?"

Then beginning with Moses and all the prophets, he interpreted to them what referred to him in all the Scriptures.

As they approached the village to which they were going, he gave the impression that he was going on farther.  But they urged him, "Stay with us, for it is nearly evening and the day is almost over." So he went in to stay with them.

And it happened that, while he was with them at table, he took bread, said the blessing, broke it, and gave it to them. With that their eyes were opened and they recognized him, but he vanished from their sight.

Then they said to each other, "Were not our hearts burning within us while he spoke to us on the way and opened the Scriptures to us?" So they set out at once and returned to Jerusalem where they found gathered together the eleven and those with them who were saying, "The Lord has truly been raised and has appeared to Simon!"

Then the two recounted what had taken place on the way and how he was made known to them in the breaking of bread.
So, in this one Mass reading, the entire Mass is encapsulated.  The followers of Christ straggle along, trying to make sense of the outside world and progressing (as best they know) to their destination.  Then, the Scriptures are opened, read, and interpreted–the first part of Mass, the Liturgy of the Word.
Once the people have been fortified by knowledge, then Christ is made known in the breaking of the bread–the Liturgy of the Eucharist.  We are more prepared to recognize Him and receive Him because of the instruction that has gone before, but the appearance is still startling.
Finally, once the liturgy is over, we have to return to the world we were discussing, newly fortified, to share what we received and reflect (as best we can) the love that shone on us.
Seeing the whole Mass so neatly tucked recursively into the Mass just delights the Hofstadterian parts of my spirit.
But, if symmetries at different scales doesn't make your heart skip a beat, let me just say that I found the self-similarity of today's service to be as lovely as this hymn: