This post is one in a series on friendship, explored through the lenses of Stephen Sondheim's Merrily We Roll Along and C.S. Lewis's The Four Loves.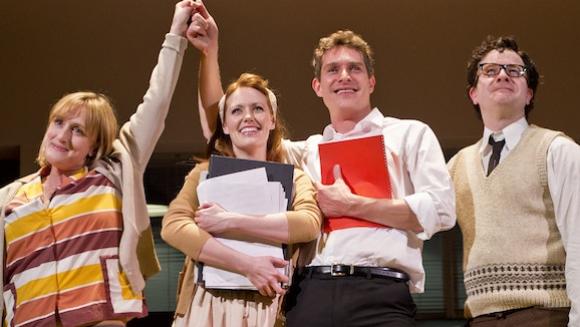 To close out this week's series on friendship, I'd like to recommend three articles on people building intentional communities that make it easier to bring friends to the center of our lives — a space conventionally reserved for family and lovers.
Ms. Kilkenny, now 64, moved to Asheville a year later with a plan to create communities like the fictional one that had captured her attention: three women in their 60s living together in a farmhouse in North Carolina. Today, not only has she succeeded in living that very life, she is also determined to help other women (and men) arrange shared housing as they grow older, while avoiding some of the potential downsides of such a move.

To that end, she founded an organization called Women for Living in Community, which offers advice, sometimes for a modest fee, to people interested in shared living arrangements.

"We weren't intended to drive into the garage and turn on the TV," said Ms. Kilkenny, who is divorced and has no children. Instead, she believes "aging in community" is a viable alternative to growing older alone or in a more traditional situation, like marriage.
For most of our adult lives, Rebecca and I lived in houses full of roommates and loved it. Before our most recent move, we rented a rambling five-bedroom house with four friends. When we started talking about getting married, we realized our biggest fear was that we'd leave these important kinds of friendships behind and end up living in what she jokingly called a "love/torture cave of nuclear family loneliness." Neither of us wanted that.

It turned out two of our closest friends (Rebecca and one member of that couple had gone to college together) felt similarly and we decided to do something different and move in all together. At the time we didn't know anyone else who had done such a thing, though later we discovered a friend of a friend living in another co-op house less than a mile away, and she has helped us figure this out. We found a house we liked and made an offer. A couple days after we closed, before we'd even painted the walls and moved in, they found out they were expecting.

…Yes, all four of us are on the deed and, yes, we share the 30-year mortgage and food and maintenance expenses. No, there's no division of the house into separate sections. And no, all four of us are not all having sex with each other. (Why do many people assume that if adults are willing to share a kitchen, they probably also want to share a bed?) We are just two couples who plan to live together and raise children in one household, hopefully for decades.

…While most people take for granted that dual-parent households usually have more resources to deal with life's challenges than single parents, why stop there? By forming a household with friends who share our values, we realized we could build an even stronger system of support than we would have in separate homes. The model is not even new; it's an echo of raising children with the support of an extended family, but with less drama, I expect.

Continue reading
Hyattsville's nascent urban revival began to draw energetic, growing families—many with ties to the nearby Catholic University of America and other Church institutions—seeking a traditional neighborhood with a vibrant parish. Currie's knowledge of the local mar- ket helped him to make connections between interested families and homeowners willing to sell. Over the years, he has played middleman for several dozen sales and rentals, though he is not a licensed real estate agent and has never taken a commission.

When the rundown bungalow across the street from the Curries' home became a haven for drug users, Chris and Susie bought the house and spent a year renovating it before reselling. "It wasn't to make a profit, just to pre- vent a growing problem from getting worse. We definitely lost money on it, but," Currie adds cheerfully, "We got a great new Catholic family into the neighborhood." There are now unofficially about a hundred young, well-educated, and orthodox families in Hyattsville's intentional community. "It's a community without any kind of articles of incorporation or authority structure outside of the parish," Currie says, "which is the basic unit of Catholic society." In recent years, St. Jerome Parish has had significantly more baptisms than funerals, reversing a general trend of urban churches with dwindling numbers of mostly elderly parishioners. Several young parishioners have entered the seminary.

…Though the academy looks to a tradition of Christian humanism that has often been in conflict with the priorities of a technology-obsessed modern world, the community has found an online presence essential to its growth and vigor. Highly active listservs for the neighborhood's Catholic men and women are places for theological and political discussions, planning of social events and pick-up games, and prayer requests.

Currie says the fruits of this networking are a means to a greater end: "You've got to eventually go beyond this disembodied interaction and become more incarnational, because you're not going to be able to do certain things if you're just waving to your neighbor from the mailbox. You're not going to get opportunities to be of Christian service. Even if you give money to charity or volunteer at a soup kitchen, it's not the same as being involved with your neighbors all the time."
I was willing to make a lot of tradeoffs (no natural light in my tiny bedroom) to get to live in my new apartment, which is downtown in DC.  Since it's been hard to coordinate, say, moving a bunch of my friends onto the same block or into the same apartment complex, I wanted to be near as many metro lines as possible, so make visits frictionless, and "Just text me and drop by" a plausible option.
I'm going to make sure to offer my place as a venue for friends' events, so that my living room feels a bit like a shared, communal space, and I'll be sure to bake frequently, so that I can entice people 10-15 minutes away with "I just put salty oatmeal walnut espresso chocolate chip cookies into the oven, are you free?"
Do you all have other strategies or advice about ways to strengthen friend networks flung out across a city, in the absence of one of the solutions from the three articles above?