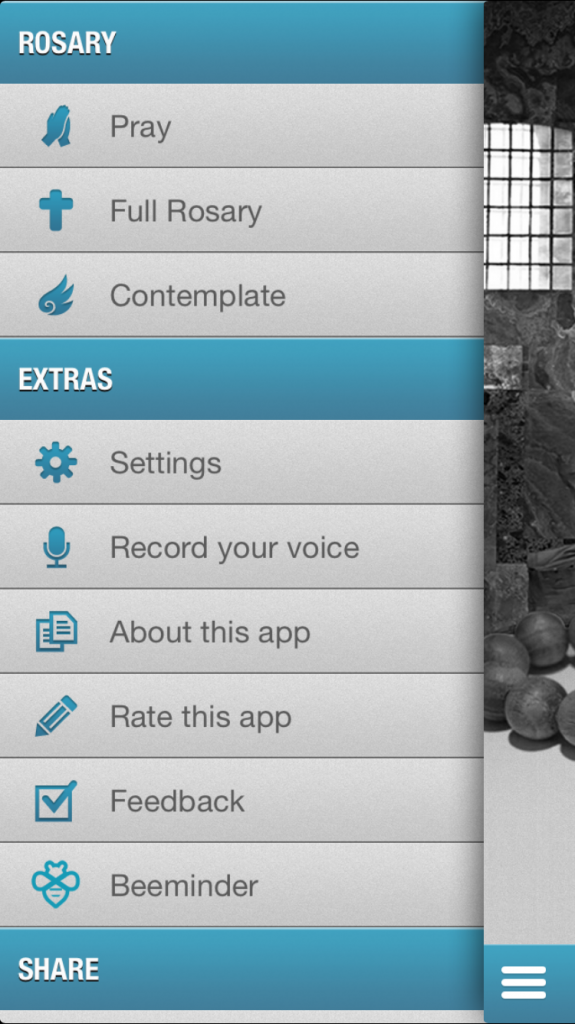 Following right on the heels of my guest post for Beeminder (on using that website's commitment contracts in spiritual life), Pedro Paulo Oliveira Jr., a frequent commenter here has taken a turn guest posting there, too.  He's outlining a Rosary app he's built, and the way he integrated it with Beeminder, so it can update your tally of prayers automatically, to keep you on the straight and narrow.  Here's how his project got started:
Our popular Electronic Rosary app helps people to pray the Rosary with voice guidance, beautiful images, and variable pacing. It's especially useful in places or situations where you'd have trouble keeping count or need a companion.

Actually I developed it for myself. Praying the rosary while commuting, I'd constantly lose track of the Hail Marys. I wrote the first version in 9 days, during a time of the year numerous Catholics live the devotion of the novena to the Immaculate Conception. In 2011, instead of praying a special devotion, I wrote code that would help me pray better in the future. Noticing that the experience had been positive I donated the code to the company I work for so they could build it into a product and make it available to other people. Now more than 10k users pray the rosary daily using Electronic Rosary for iOS.

One feature users asked for constantly was a mechanism to help them to pray this devotion every day. In iOS, we can set daily notifications but the downside of notifications is guessing correctly what time to display the notification. That's where Beeminder comes in.
Congrats to Pedro and Beeminder on their collaboration.  And, as Pedro noted in his blog post, his app is free for download at the moment, if you'd like to try it out.