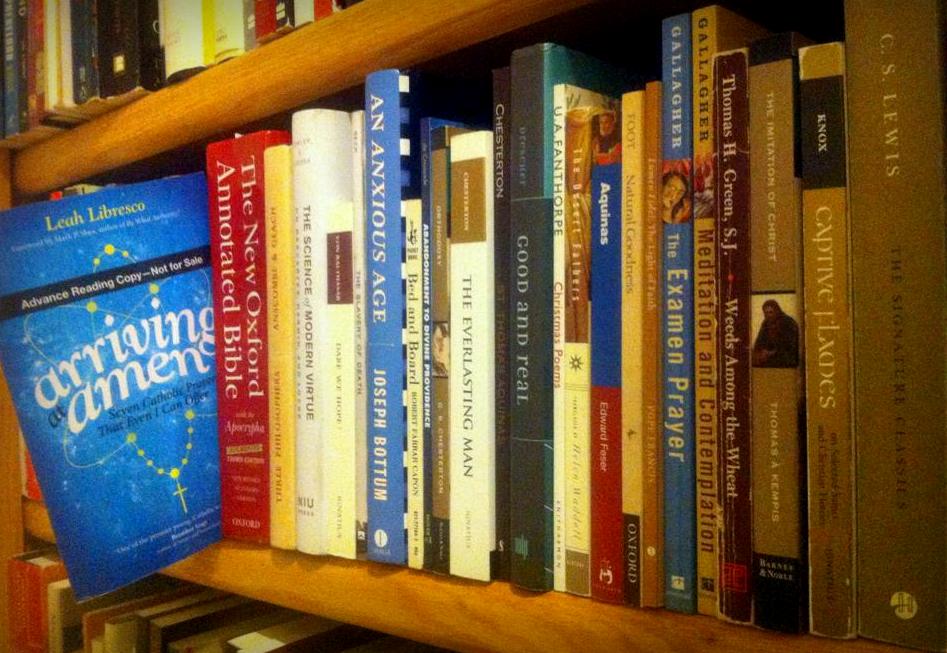 Tomorrow's the official debut date of Arriving At Amen: Seven Catholic Prayers that Even I Can Offer, my book on learning prayer as a foreign language, relying on secular analogies and sources of  beauty to make sense of Catholic spirituality.  And the first published review is already out!
Fr. David C. Paternostro, SJ took a look at my book for Homiletic and Pastoral Review, a magazine for the clergy and other ministerial workers.  Here's what Fr. Paternostro had to say:
The devotions that Libresco covers in her book arise from her own story of learning how to cultivate that relationship, and turn those initial sparks into a hearty flame. We see how she "(relies) on traditional prayer practices to teach me the new rules of the world I found myself in and, little by little, open my heart to grace" (xxxi). This gradual opening of her heart is an overarching theme of the book, one which, more than anything, gives a unity to her work. With each chapter, we see Libresco's heart opened more as she is drawn more and more outside herself in a variety of ways. In the conclusion of the book, she describes the principle of fortissimo—"when in doubt, shout"—and how she has applied this idea to her spiritual life, in imitation of Peter. She describes how Peter treats his actions, mistakes included, with a levity that would impress Chesterton, and that "they are not fortissimo because Peter has irrevocably committed himself to them, but because he has committed himself entirely to Christ" (p. 143). With this creed of fortissimo, one never has to worry about giving one's whole heart to Christ. What's more, as Libresco notes, by making everything fortissimo, even the errors, one can be sure the errors will be noticed and corrected.

Libresco's take on Peter was one that I had not considered before. At the same time, now that I have read it, it is one that I cannot shake. This was hardly an isolated experience. Throughout the book, Libresco makes observations about the prayers covered in her book and draws connections between them and other things (ranging from mathematical concepts and computer programming to theater and literature, and absolutely everything in between) that give them a fresh perspective.

[…]

Libresco has written her book with the intention of aiding both the green horn and the old hand, and in this she succeeds. Those who have familiarity with these prayers can be helped in two ways. First, by helping them see these prayers in a new way and keeping them from taking these prayers for granted, a temptation which even the best of us can succumb to. Second, as a reminder of what these prayers look like to someone who doesn't have a lifetime of experience with them. Those who are unfamiliar with these prayers can draw from Libresco's own experiences and find inspiration as they respond to God's love and deepen their newfound relationship with him. In addition, at the back of the book are three to four study questions for each chapter (including the introduction and conclusion). The questions are well-written and cover the major themes of the chapters, and could be of great aid either in personal reflection or for a parish study group.
I'm really looking forward to tomorrow. when the ebooks zip out across the ether and your physical copies start turning up.  I'd love to hear your reviews, what catches your attention, and what you recognized that you might not have expected to see in a book on prayer.
It was a pleasure to weave in so many books/musicals/theorems that I love, and handing over my book does feel like bringing you guys over to my house to be introduced to all the ideas that practically feel like friends.  I hope you love them as you meet them!