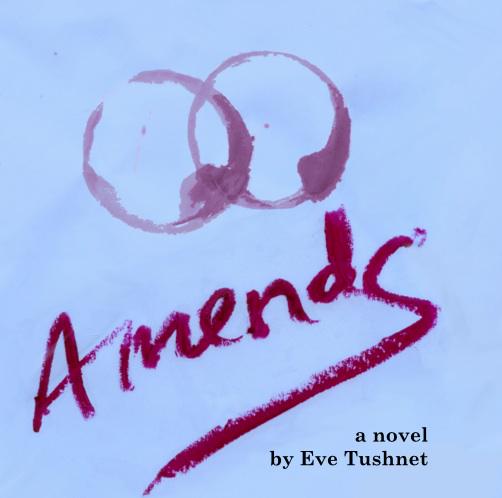 Eve Tushnet, the author of Gay and Catholic, just released her second book! Amends is a novel about addiction and forgiveness (and how both aren't things you can finish dealing with). I just finished it myself, and I can't wait to be back in D.C. to convene my friends to talk about it (and read aloud some to the passages that were particularly profound and/or hilarious). Here's how I reviewed it on Amazon:
Eve's first novel is excellent. I read it for the first time on a plane and was sorely tempted to wake up the stranger who was my seatmate, so I'd have the pleasure of reading some of her one-liners aloud (just from the first page "He had a dilapidated body and a face like the last days of the Raj: jowly, discredited, eager for the final defeat.")

But this isn't a book that got distracted by it's own cleverness. When anything tips close to pastiche, it tends to because I'm seeing through the eyes of one of the characters, all busily trying to rewrite the story of their own lives, and (most of them) pretty ready to believe that tragedy can be farce, if you tell it well enough.

The book delivers on the title. What the characters, and I wind up remembering in tranquility is what it looks like for forgiveness (or the initial wound that necessitated it) to be an ongoing act of love, not a "successful" act of closure, that makes a relationship so tidy that you can call it finished. I'm confident that this book will bear fruit (gradually and weirdly) in my life.
Rather than summarize in more detail, I figured I'd also let you just start reading here, and if you want to keep going, you can pop over and order a copy of your own:
J. Malachi MacCool was born in Berkeley, California, in the last decade of the Cold War, to parents who deserved better. He had a dilapidated body and a face like the last days of the Raj: jowly, discredited, eager for the final defeat. He was thirty-two, he lived in a cockroach-infested studio apartment in Washington, DC, and fans of his writing—for magazines like Intimations, Hound and Gentry, The Anglican Militant and Tempus—considered him one of the great unwanted geniuses of a degenerate age. His favorite term of praise was "civilizational," and he lived by the creed, "Alcoholism is what raises man above the utilitarians."
And don't forget how great her first book is! There are a lot of ongoing conversations and projects happening among my friends in DC on how we can cultivate community, support vocations to love (outside of marriage), etc. that got their beginnings at the big Gay and Catholic dinner discussion we had. (Here's my review of it, for a refresher: "It Is Not Good For Man To Be Alone")
Tolle, lege, folks!