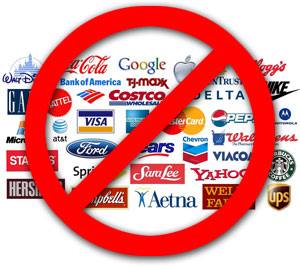 Dear Warriors for Christ:
Yesterday it was disclosed that 10,000 God-fearing Christians abandoned their sponsored children when World Vision USA made the abominable choice to allow for the hiring of married gay employees.
Congratulations, brothers and sisters! By withdrawing your financial support of children in need, you have shown the world what the sacrificial love of Jesus Christ really looks like! Yes, it hurts not to give. But sometimes that is the price we must pay.
Speaking of  how we spend our money, let's keep the pressure on! Our unswerving Godly convictions demand that we continue to boycott all companies and organizations that support gay marriage. Such companies include: Starbucks, General Mills, Costco, Kraft, Levi's, Nike, Gap, Target, Campbell's, Pepsi, Coke, Oreo, Ben & Jerry's, Nordstrom, Sears, J.C. Penney, Macy's, Chevron, Shell, BP, 3M, Chrysler, Ford, GM, Nissan, Toyota, Volkswagen, Comcast, Sony, Walt Disney, Time Warner, Viacom, Hallmark, Kellogg's, Land O'Lakes, Safeway, Hershey, Mattel, Johnson & Johnson, Procter & Gamble, DuPont, GE, Whirlpool, Home Depot, Best Buy, Barnes & Noble, Staples, Office Depot, Walgreens, OfficeMax, Crate and Barrel, Kodak, Lexmark, and Xerox.
Refraining from spending with these companies should not prove too difficult for you, for surely you own no credit card issued by Visa, MasterCard, Discover, or American Express. (Nor, of course, do you have any money in or with Citigroup, J.P. Morgan, Chase, Morgan Stanley, Goldman Sachs, UBS, HSBC, TD Bank, Wells Fargo, US Bank, Prudential, or Bank of America.)
And keep remembering to never log on to Amazon, eBay, Yahoo, Google or Facebook. Which shouldn't be too challenging, since you are no doubt already boycotting Apple, Microsoft, Dell, HP, Intel, and Cisco.
And don't forget: no using cell phones from Verizon, AT&T, T-Mobile, or Sprint!
The (wretched) Human Rights Campaign has a handy Buyer's Guide that lets you know many other major companies that true Christians must avoid.
We have made inspiring progress, friends. But this is no time to rest! We cannot allow our glorious snowball of righteousness to stop rolling now. We must keep on pushing it, until we unleash a mighty avalanche of God's wrath that buries all the sodomite sinfulness of our culture beneath a blanket of wondrously shining whiteness!
Hand in hand with you, we await that blessed day.
---
Written by Dan Wilkinson and John Shore.