This guest post by Jill Crainshaw is based on the Gospel lectionary reading for Advent 4, Luke 1:39-56.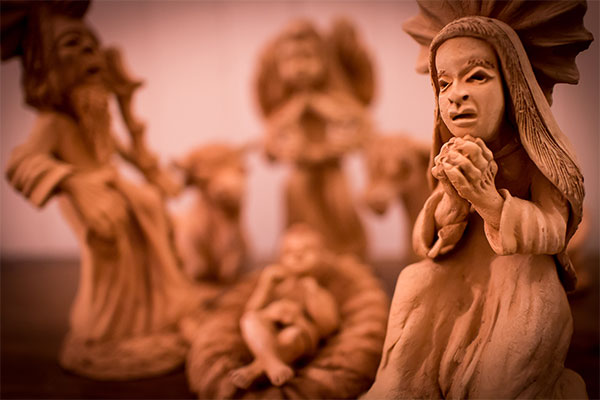 Snow falls. Gently. Lights twinkle in houses festive with welcoming wreathes. Santa and eight tiny reindeer alight on a snow-softened roof. Enchanted. Perfect.
"Bah Humbug!"
Those were Robin's words as she opened that year's Christmas gift to discover–the snow globe. A holiday scene trapped in a watery sphere. "What does a 50-year-old woman do with a snow globe? You look at it, and then what?"
Robin had no room for one more thing to look at. Her house was too full of stuff. Her life too complicated. Her time too cluttered with grown-up realities. She packed the snow globe back into its box and shoved it onto a top shelf in a closet.
But don't we sometimes long for a snow globe Christmas? Smiling people strolling down cheerful sidewalks. Just the right amount of snow to hide imperfections without shutting down streets. A lovely Christmas contained in a predictable scene. Oh, the extremes some of us have gone to at times to create that perfect Christmas, and what disappointments have befallen us.
I think we are tempted to see the Nativity story as a series of picturesque snow globe scenes too. Joseph in a well-organized carpentry shop working with gently used Harbor Freight tools. Shepherds on a verdant hillside, startled by the angels that Christmas night, but not too much. A baby born in a barn kissed by the glow of heaven's brightest star.
Lovely pictures, but what about the actual scene in Luke 1 where an angel appears to Mary and tells her she has found favor with God and is pregnant? Do we see her? Young. Poor. Unmarried. No, Luke 1 is no snow globe scene. Things get shook up—by a message that sends Mary's life into disarray and unsettles even more an already uncertain future.
Mary runs to the mountains. To Elizabeth. And there in the safe space of friendship—both women expecting—do we see her? It is as if Mary holds up a snow globe and in the light of friendship and community glimpses something unexpected. Something new about the world and faith and humanity being birthed in her. Births do that, it seems—tie us to all that has gone before even as they hurl us into the future. Hopes and fears meet in an untidy tangle as we expect a new life to be born into our joy-promised but frightful world.
And there in community with Elizabeth, a song finds Mary. Not a melodic Christmas carol, but a revolution song. A survival song. A justice song. A song of hope that connects her to generations of biblical women who have sung revolution songs before her and generations of women who will birth radical hope after her. Mary sings—fully human, fully pregnant—and her song is more than a lullaby. It is a dangerous song that dares those brave enough to sing it to be partners with God in creating a world where fearing not means setting free. Mary sings: "My soul magnifies the Lord. God has brought down the powerful and lifted up the lowly. God has filled the hungry with good things." In me? Through me?
How does a human soul magnify God? In ancient Rome, people used a bowl of water to magnify things. A bowl of water. A snow globe's watery sphere. Mary's soul, her body, her life magnifying a truth about God. And looking through her soul, we see a radical Christmas scene. A scene where God's justice and grace replace fear and violence.
Many have imagined at Christmas a different kind of world—Hallmark card creators, the writers of Rudolph and other familiar Christmas stories, holiday songwriters. But Mary? Mary's soul magnifies not a snow globe hope for a momentary, seasonal change of hearts. Mary's soul magnifies a revolutionary vision: God birthing hope in to human life—God breaking through the glassy domes we put around who and what we think God and humanity are—God breaking through cynicism and pain—to ignite justice and hope.
Robin received the snow globe gift a decade ago and decides every year to donate it. But she never does. Maybe the child inside of her won't let her give up her hope for a time when all is right with the world. We want to believe too. We long for a world where hope replaces despair. Where children don't fear violence or hunger. Where all people are valued and respected. Robin takes a last look before she really donates the snow globe this year. She shakes it. Watches snow fall on its quaint house. She loved the magic of it all when she was a child. She believed something about it was true. But then she grew up.
Ready to take the globe to the donation center, Robin notices on its side a key she has never seen before. A snow globe with music? Probably "Here Comes Santa Claus" or some other happy Christmas song. She turns the key.  Notes tinkle out. "Away in a Manger, no crib for a bed." Oh my. She looks at the scene in the globe. A child by a light-sprinkled Douglas fir watches rapt as Santa arrives on the house rooftop. The music continues to play. "The little Lord Jesus laid down his sweet head." Something stirs within her. An ancient hope, perhaps? Lost childhood wonder? Or maybe the unexpected belief that what God promises in these Advent stories is real. Maybe the quaint secular snow globe scene and sacred Christmas carol combination isn't as crazy as it seems. After all, God doesn't come to visit an idyllic tableau. God comes to the mess that is human living. God comes to turn our lives upside down, to transform, redeem, heal, restore.
Robin put the snow globe on her windowsill and looks through it out into her neighborhood. Out there—into the ordinariness and brokenness of human lives—God comes. The scene is not pristine. We have much yet to do to see justice done in our world. But the promise is real. God works through you and me to bring hope.
Listen. Can we hear through the chaos and fear Mary's song? "My soul magnifies the Lord. The lowly are lifted up. The hungry are filled with good things. From generation to generation." Oh God, may your song live in us today.
---

About Jill Crainshaw
Jill Crainshaw is a PCUSA minister and Blackburn Professor of Worship and Liturgical Theology at Wake Forest University School of Divinity. She is the author of several books on worship and ministry.