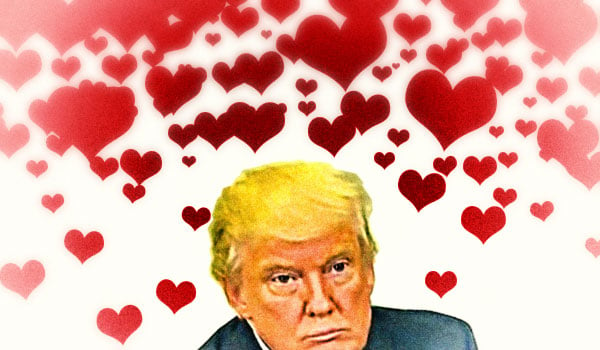 "Love is patient, love is kind … it is not rude, it is not self-seeking … Love does not delight in evil, but rejoices in the truth" (1 Cor. 13:4-6). Let love reign! Never Trump-ism!

Forgiveness for injustice does not mean support for injustice. Let love reign! Never Trump-ism!
"Love is the most durable power in the world. This creative force, so beautifully exemplified in the life of our Christ, is the most potent instrument available in mankind's quest for peace and security." (King, Jr.) Let love reign! Never Trump-ism!
"Whatever is true, whatever is honorable, whatever is just, whatever is pure, whatever is pleasing, whatever is commendable, if there is any excellence and if there is anything worthy of praise, think about these things" (Philippians 4:8). Let love reign! Never Trump-ism!
God saves humanity through humanity. Time to get to work! Let love reign! Never Trump-ism!

"My patriotism is not an exclusive thing. It is all embracing and I should reject that patriotism which sought to mount upon the distress of the exploitation of other nationalities. The conception of my patriotism is nothing if is not always, in every case, without exception, consistent with the broadest good of humanity at large." (Gandhi) Let love reign! Never Trump-ism!
So, what's this about? My plan is to begin my daily postings on my Facebook Page with a positive, hopeful, constructive affirmation of love and justice, followed by: Let love reign! Never Trump-ism!
During the campaign a number of GOP politicians, analysts, and advisors pledged "Never Trump." They were willing to suspend partisan politics for this election cycle because they were convinced that Donald Trump was morally unfit to hold the highest office in our land.
Well, that hasn't changed. He is the President Elect, but he is still morally unfit and his policies of injustice threaten to hurt minorities and undocumented persons. I am compelled by my discipleship to Jesus to oppose injustice and to stand with and for those who are victims of injustice.
I said this to my Facebook friends: I will be opposing Trump-ism for the next four years. So, if that is more than you can handle, please feel free to unfriend me. I understand. I promise I will not take any personal offense. And I welcome all comments as long as you are nice. If not, then I will have to unfriend you. Let me clarify something here. I oppose Trump-ism because I am advocating love of neighbor as oneself. That means standing with and for those Mr. Trump's unjust policies will marginalize and hurt. I am not opposing Trump-ism because I hate Mr.Trump. Jesus commands me to love Mr. Trump. I am opposing Trumpism because my first priority as a disciple of Jesus is to love my neighbor. Grace and peace.
Why "Never Trump-ism," and not just "Never Trump"? It's a personal thing. It reminds me that while my discipleship to Jesus compels me to hate injustice and to work for a just and fair world, I must never hate the perpetrators of injustice. They too, are children of God. Jesus said according to Luke, "Love your enemies, do good to those who hate you, bless those who curse you, pray for those who abuse you … and you will be children of the Most High; for he is kind to the ungrateful and the wicked. Be merciful, just as your Father is merciful" (Luke 6:27, 35-36).
I know I will not love Mr. Trump and those who will carry out his policies as well as I could or should, and I know I will struggle with this from day to day, but I am constrained to do my best. If Mr. Trump ever has a genuine conversion to love of neighbor then I will respond accordingly. Until then or until he is voted out of office, I will be proclaiming "Let love reign! Never Trump-ism" quite regularly on my Facebook Page. It's the one little thing I can do daily to affirm love and inclusion over hate and exclusion, which many Americans voted for when they voted for Trump. It's one little act of protest and affirmation of love and justice I can do daily. And it reminds me to never be complacent.
Trump-ism represents some of the worst of the isms that would diminish our lives and our society: sexism, racism, egotism, narcissism, and nationalism. So, Let love reign! Never Trump-ism!
Why not join me? Maybe we could start a movement.
The powers that be crucified Jesus.
But God raised him from the dead.
Love will have the final word.
Let love reign! Never Trump-ism!
(If you want to read my daily "Let love reign! Never Trump-ism!" simply friend me on Facebook).
Photo illustration by Dan Wilkinson.
---

Chuck Queen is a Baptist minister and the author of several books on progressive Christian faith, including his most recent, Being a Progressive Christian (is not) for Dummies (nor for know-it-alls): An Evolution of Faith. Chuck blogs at A Fresh Perspective, has contributed to the blog Faith Forward and is a monthly columnist for Baptist News Global.