This excerpt from Steve Garber's book Visions of Vocation is reprinted here with the kind permission of InterVarsity Press. Stay tuned as we continue to occasionally publish excerpts from the book here at Visions of Vocation the blog. And get the book from IVP at this link!
---
Over twenty years ago, Mark Rodgers and I decided to be neighbors, remembering the credo of the Clapham community in London two hundred years ago: "Choose a neighbor before you choose a house." We first met in a project that connected politics and education, and not so many years later Mark and his family moved to Washington, where he took up the work of chief of staff in the House and Senate for the next sixteen years. So we invited Mark and his family to move into our neighborhood, and they did.
One afternoon, Mark and I were talking about family and work, our lives and the world. Over time, we had made many decisions that bound us up together; never particular political issues, but more the questions and concerns that make for a good society, believing together that the culture is upstream from politics. Mark is a visionary with an engineer's mind, and he has a remarkable ability to imagine and convene.
Long a lover of music, he is always interested in the next song by the next songwriter, characteristically eager and hopeful as he is. There have been times when he has brought together artists of every sort—musicians, filmmakers, playwrights, novelists, painters—and I have joined in, bringing my questions to the conversation. There have been other times when he has called, wondering if we could put together a meeting for Bono, who for years called Mark his "angel on Capitol Hill." There was no one in those years of Bono's lobbying Washington for the HIV/AIDS crisis who was as helpful to the cause as Mark. And other times he has brought people together between the worlds of politics, the arts and business, pouring his heart out for common-good visions about the ways we live together.
That day he told me of walking through the Senate, feeling imaginary arrows flying into his back from others who worked there, hearing their "curses" as he made his way, "There goes Mark Rodgers. We wouldn't have to care about Africa if he didn't keep making it an issue. Our constituents don't really care, so why should we?" He did not say it with an ounce of arrogance; more with real weariness, feeling the weight of working on something that most did not think was worth working on. Too often, winning the next election is the only thing that matters, and if the people back home are not motivated by the needs of Africa, it is hard to expend political capital on such very far away concerns. There is nothing romantic about trying to do the right thing and feeling the indifference of those you work and live with.
And that is only one story of Mark's life. Year after year he has kept at it, seeing ideas and issues that implicate him. There is legislation that has changed the way we live as a people—in fact, that has changed the way the world works—and the fingerprints of his heart are all over the laws. There are songs and stories that have been seen and heard by people all over the world that have his name written into their production. There are projects that address educational problems in the cities of America and animal rights in every neighborhood of America that Mark has labored over. Complex, difficult, sometimes unpopular and yet each is important for the way the world turns out.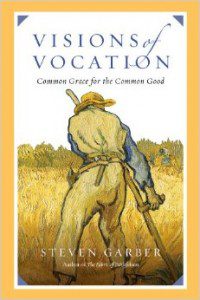 Taken from Visions of Vocation by Steven Garber. Copyright (c) 2014 by Steven Garber. Used by permission of InterVarsity Press, P.O. Box 1400, Downers Grove, IL 60515-1426. www.ivpress.com