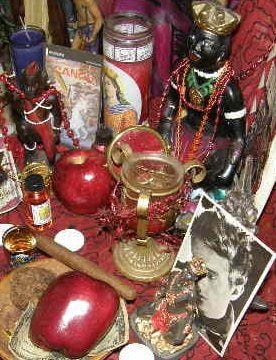 King Chango is the Santeria Lord of fire, passion, and the drum. His consummate masculinity shines through in all that he does, even when he wears his wife's clothing as a disguise. Chango is a warrior god, said to wield a double edged sword of justice. If you are interested in more information about Chango, I recommend the book Santeria: A Practical Guide to Afro-Caribbean Magic by Luis Manuel Nunez. This recipe is suitable to use for any Chango feast or ceremony, or when you just want to spice up your life a bit. It contains all his favorites: cashews, meat and heat. Enjoy! For more recipes like this one please check out my African American Ritual Cookbook.
½ lb. Organic ground beef
½ lb. Organic ground turkey
½ lb. Organic ground pork
1 8oz can Organic tomato sauce
¼ lb. Raw cashews
2 tsp. Chili powder
1 tsp. Smoked paprika
½ tsp. Garlic powder
1 tsp. Onion powder
1 tbs. Fresh basil, chopped
pinch cinnamon
½ tsp. Black pepper
¼ tsp. Sea salt
1 tsp. Balsamic vinegar
1 red onion, diced
1 red pepper, diced
½ lb. Mushrooms, chopped
4 Plum tomatoes, seeded and chopped
1 oz. Grated dark chocolate
1 tbs. Grapeseed or coconut oil
Parsley, for garnish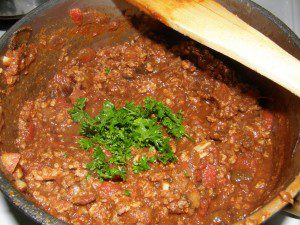 Heat oil in a large saucepan, add onions, red pepper, and mushrooms and saute until lightly browned. Remove from pan. In the same pan fry beef, turkey, and pork til browned. Return onion, pepper and mushroom mix to the pan. Add tomato sauce, chili powder, smoked paprika, garlic powder, onion powder, basil, cinnamon, black pepper, salt, vinegar, and diced plum tomatoes to the pan. Stir well. Simmer over very low heat for 2 hours, stirring occasionally. Next add chocolate and cashews, stir. Cook for 30-60 minutes more. Taste and adjust salt, pepper and other seasonings. Top with parsley for garnish. Serve with cornbread, cheese, or whatever else you desire. Ashe!