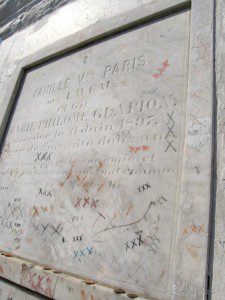 The Times-Picayune is reporting that the pressure washing of the tomb of Voodoo Queen Marie Laveau started on Thursday (Jan 2). The tomb is being restored by the Archdiocese of New Orleans. The Times-Picayune article reports that the non profit group Save Our Cemeteries is saying that there were "chips of brick and plaster from the tomb all over the ground." This is the second most visited grave in the United States, a sacred site for thousands of Voodoo and Vodou devotees, as well as other Pagan  practitioners from across the globe. People make pilgrimages, leave offerings, have sacred moments. Unfortunately, it is painfully unprotected. It was painted what was described as a  "pepto dismal" pink around the middle of December, which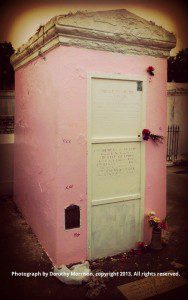 I wrote about this issue in Marie Laveau's Tomb is Pink: Shame Shame Shame, and Denise Alvarado uncovered more information in her post Wicked Witch Extraordinaire Dorothy Morrison  Delivers Evidence of a Pink Marie Laveau Tomb. Now there is the danger that they will be continuing the restoration with Portland cement, which could further damage the tomb. Preservationists are calling for an alternative and rallying to find a solution quickly. And as always, I will keep everyone posted.
Most of the general public has seen Marie Laveau come to light on the popular television show American Horror Story Coven, which features the Voodoo Queen as a regular character portrayed by Angela Bassett. Patheos blogger Peg Aloi and I have been covering the show extensively on video chats  with wrinkled brow, you can check that out here. For more information about the Voodoo Queen Marie Laveau, please check out Carolyn Long's book A New Orleans Voudou Priestess: The Legend and Reality of Marie Laveau  as well as my post The Real Voodoo Queen Marie Laveau.