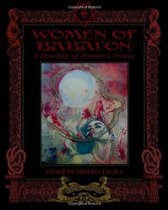 Welcome again to our ongoing series highlighting the writers and artists of Women of Babalon: A Howling of Women's Voices. The work is a compilation composed of the text and art of sixteen practicing female magicians through which the vital character of a Babalon is explored. I sent out the clarion call to my fellow women this month to join me here on Voodoo Universe and highlight what life, love, and Babalon mean to them. My offering about flaming passion was posted earlier this month, as was an amazing piece by Lou Hotchkiss Knives. This wonderfully divine offering is from Diane Narraway.
Lucifers Child
It is not so much that I am a magickal woman through any conscious decision, there is no moment of clarity or epiphany,it is more that I grew into the magick that was already within me.
Very flippantly I have always said "My natural father was an alcoholic and my mother, the most intelligent person I know, a science teacher… I am therefore both scientific and hedonistic …What else could I be except a Witch!"
But there is far more to it than that, something much deeper… Blood by nature and fire by desire!
As I watch my granddaughter swirling petals and berries around in an old black bird-bath, I feel compelled to ask her what she is doing…she gives the answer I expect, the same answer I gave my Mother 40+ years ago….very emphatically she replies 'I'm doing a spell !'
I cannot remember a time when I didn't practice magick…I only remember walking with totem animals, throwing flowers into the river to predict events (my first scrying).
I grew up opposite a medieval churchyard and I recall often sitting upon the ancient altar stone among the graveyard and talking to souls long gone.
Occasionally I still return to the tranquillity of the churchyard, sit upon the ancient altar stone and enjoy the beauty and the peace that is ever present in this land of the dead and it was on one such occasion that this was written through the inner visions that came to me on a summers' day. Simply titled –
The Ancient Altar Stone.
Let me paint a picture,
Of an ancient altar stone,
And a long forgotten shaman
Dressed in hide and bone.
Whose piercing eyes see everything
Behind his painted skin,
And the darkest fire burning
Is the soul that lies within.
Lord of his own dance
In the misty morning light,
Surrounded by his clansmen
On that most sacred site.
Whilst lying naked on the altar
Lies the chosen one,
Whose blood will be the offering
At the rising of the sun.
Oh! How great would be the honour
To be that sacrificial lamb,
And give yourself so freely
For the benefit of the clan.
And when the darkness closes in,
The next breath will be the last
As to the sound of beating drums
The blood runs thick and fast.
To honour mother Earth
As the sun begins to rise,
The shaman's staff is raised up high,
Amidst the tribal cries.
While the drums beat ever louder,
To the rhythm of the heart.
Then when he taps his staff three times,
The celebrations truly start.
But all that now remains
Of that divine rite,
Lies beyond the veils of time
Upon that ancient site.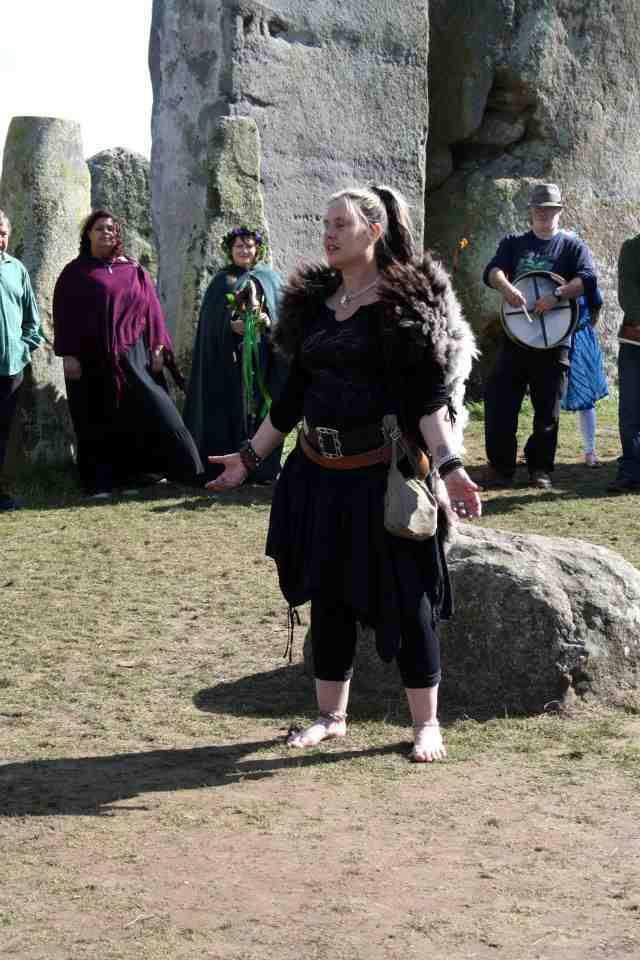 Growing up in rural surroundings on the south west coast of England where I spent a lot of time on the beach or with my paternal grandfather, himself an occultist, was itself magickal. Though my grand-parents physical surroundings were very different to mine, fast paced city life, 'The Rat Race', my grandfather spoke of water faeries, described the breaking waves as white horses and considering his urban lifestyle saw things in a very unique often ethereal way.
I recall he and my grandmother took me to Stonehenge when I was about 7yrs old. In those days there were no perimeter fences and English Heritage, open access, and visitor centres were still a thing of the future and I remember sitting on the stones and feeling a sense of something much bigger than I. A year later he bought me my first book on Cornish witchcraft which gave me a handful of simplistic spells to practice!
If there was ever a time when the frost covered moonlit world outside my bedroom window didn't call to me …I don't remember it. I have danced with the daemon as long as I can remember and have learned from occultists, spiritualists, friends', family and of course lovers. There is very little I have not experienced in the highs and lows of life…I have danced with the daemon since childhood, to a rhythm which has led me through addiction, violence, birth and death. Chaos! And through these experiences I have learned acceptance, forgiveness, humility and above all love.
As I have grown and experienced different aspects of life, child, mother and now grandmother so I have learned to love on different levels…I have come to realize that Love is not an emotion bandied about by card companies and chick flicks. Love is the chaotic force of the daemon, it is fuelled by the passion that lives within me…my heart, my spirit and all that I am burns with the will to create… This is the same that Love calls to all of us because love is a creative force. It is the most powerful force in the universe. It is this creative force driven by desire that brought about creation itself … We exist through love, because it is within the few seconds of orgasm that true 'love' exists. It is then that creation is possible and along with it infinite potential and possibilities, good, bad and otherwise.
LOVE is indeed everything!
Communion
I have walked the serpent,
To see diamonds in the sky,
And feel the stillness of its breath,
As time goes slowly by.
And just how sweet the serpents' kiss,
That makes my soul take flight,
And offers just a tiny glimpse,
From within the astral light
For that erotic daemon,
Lets me see through open eyes,
Beyond the constraints of this world,
Beyond the arrogance and lies.
So shadowed by the daemon,
I hear angels sing to Pan,
While I commune with aliens,
For man is God and God is man.
Women of Babalon is the first time I have written of my magical experiences, from the first time I encountered the soft flicker of light in the silent realms of the astral world and the journey that has come to shape my magick today.
Diane Narraway is the chairman of Dolmen Grove and editor of Dolmen Grove Chronicles, You can learn more about them on their FB page. Thanks for reading and please share the love !