Beltane is upon us… May Day, Maypoles, May wine, everything is in bloom and the time is ripe for love. It is a time for decadence and enjoyment… I can't think of the day without being reminded of the famous song from the film Camelot sung by Vanessa Redgrave. Vanessa Redgrave singing, now that's something you don't see everyday.
The Lusty Month of May
Blooms are all around us now, and many don't realize that the violets and dandelions in their garden are also edible. Magickally they are said to bring love and romantic blessings. Please share this recipe with those that you love.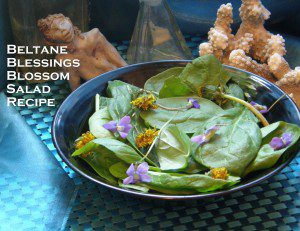 Beltane Blessings Blossom Salad Recipe
Ingredients:
¼ cup Violet Blossoms
¼ cup Dandelion Blossoms
¼ cup Chive Blossoms
2 cups Baby Spinach, washed
2 Tablespoons Champagne Vinegar
1/3 cup Extra Virgin Olive Oil
2 Tablespoons Basil, minced
1 Tablespoon Parsley, minced
Salt and pepper to taste
Combine Violets, Dandelion and Chive blossoms with Spinach leaves together in a large bowl. Mix well. In a small bowl whisk together vinegar,adding the oil slowly, then add the basil and parsley. Add salt and pepper to taste. Pour over salad and toss just before serving. Enjoy the salad and your Beltane !!! For more great ritual recipes please check out my African-American Ritual Cookbook.
I'd love to hear your favorite Beltane treats… Do you make a special May Wine or Cake? Please let me know about it in the comments below, and remember to share this post!