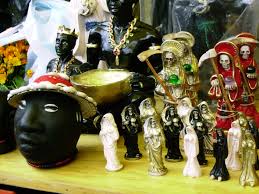 Worship of La Santa Muerte has been popular lately. Also known as Mother of Impossibility, and Patron of a Good Death, Santa Muerte, or Santisima Muerte, is a powerful force. In an interview with the Daily Beast, Professor of Religious Studies Andrew Chestnut says "Get this, going back to 2001, Santa Muerte is essentially unknown to 99 percent of Mexicans. Today, a decade and a half later, I estimate that there is some 10 to 12 million devotees in Mexico, the U.S., and Central America." Some devotees offer her tequila, tobacco, chocolate, or even marijuana. She is sought after in spells of love, money, protection, and healing. Honored on the second Saturday of August, she has taken a prominent place in the world of ancestor worship. Santa Muerte is beyond a simple ancestor though, and her reach has extended into many different areas.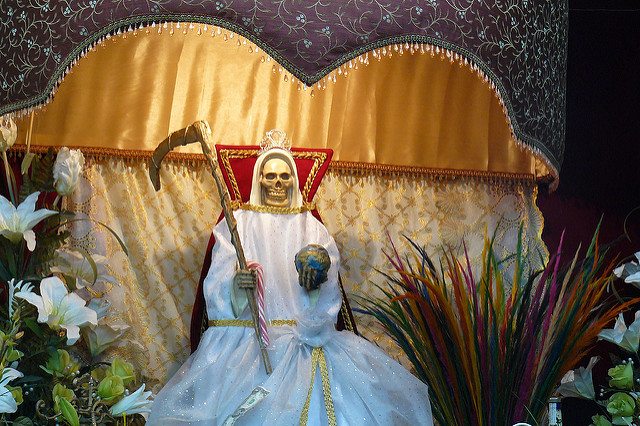 Drugs? Many have formed a connection between Santa Muerte and the Mexican Drug War, which came into the mainstream consciousness in the 1990s. There is even a scene on the popular television show Breaking Bad where some of the more dangerous characters are seen crawling in devotion, and offering prayers up to her.
LGBTQ ? Drug cartels and prisoners aren't the only ones worshipping Santa Muerte. In her role as champion of the oppressed and marginalized this dark goddess has taken her rightful place in the hearts and minds of many in the LGBTQ community.
Aztec Queen? Researchers theorize that the origins of Santa Muerte go back through history to an Aztec goddess of death and the underworld. Next she blended with some of the early European myths and legends about death, and became what and who we see today.

Santa Muerte photo by Sin Jones. Licensed under CC 2.0

Faces of Death ? As it has been observed, Death can have many faces. The representations of Santa Muerte have many faces as well. There are statues that simply look like the grim reaper, and those in white, black, gold, green, and even red. There are statues that are posed to see no evil, hear no evil, and speak no evil, and even ones in pink tutus. I have seen early representation of Santa Muerte that look like a Cupid figure, and more modern ones that are the same as the Day of the Dead figure known as Lolita.
The Video Condemned By The Catholic Church- Saint Death Gathers Followers talks about Santa Muerte as being associated with narco-traffickers and murderers, but in a larger context connected to truly marginalized and disenfranchised individuals.

No matter what form she takes, or who calls her, it is clear that Death is here to stay. For more information about connecting to the divine feminine this Womens History Month check out my book 55 Ways To Connect To Goddess. If you have enjoyed what you read here please remember to subscribe to our RSS feed, and Share this post!