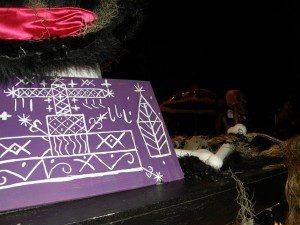 A veve is the sacred symbol of the Voodoo Religion. Traditionally drawn in cornmeal, or flour on the earth, time has seen these graceful gateways manifest in many beautiful ways.The book Vodou, A Sacred Theatre explains " it represents the god who will be invoked….The veve stands as one of the most evident manifestations of art in Vodou." They can be drawn for any of the Lwa, or sacred forces in the religion. For more information about ground veves see my post Voodoo Veves.
In the 1800's the veves began to be transformed to a new medium, metal. A temporary ground drawing became a more permanent piece of art. In the ultimate upcycle, artists took metal from Haiti's Iron market in Port Au Prince, and transformed them into offerings for the gods. The beginnings of this revolutionary transformation can be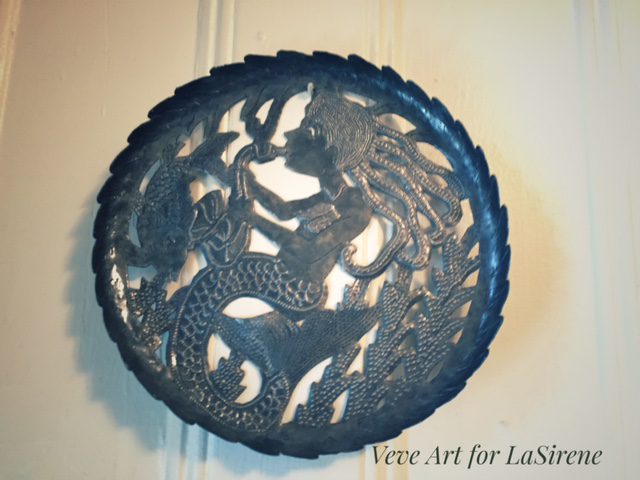 traced to artist Georges Liautaud (1899-1991) who (as described by the Kellogg Institute) "is widely recognized as the 'master of Haitian metal sculpture.' Born in Croix-des-Bouquets, a town just north of Haiti's capital city of Port-au-Prince, Liautaud developed his signature technique creating ornate crosses for a local cemetery. Dewitt Peters, the founder of the Centre D'Art Haitien, took notice and commissioned Liautaud to sculpt new pieces, leading to the artist's signature depiction of Vodou symbols and the birth of a new genre. Liautaud's studio in Croix-des-Bouquets became the basis for the fè dekoupe school." Many other artists and devotees followed his lead, and now veves in metal for Legba, Erzulie, The Marassa, LaSirene (pictured here,) and other Lwa are commonplace. They can be used as altar or shrine pieces to represent the divine.
The website It's Cactus works in partnership with Haitian artists to provide a source for these spiritual treasures. If you are interested in purchasing a wall veve please check out their Voodoo art collection.
The Voodoo Universe Amazon Store is a complete source for books, music, information and supplies relating to the religions of New Orleans Voodoo, Haitian Vodou, Lucumi (Santeria,) Hoodoo, and other Afro-Diasporan traditions. Please check out what we have here and for more information keep reading our blog Voodoo Universe. The truth about Voodoo is out there !