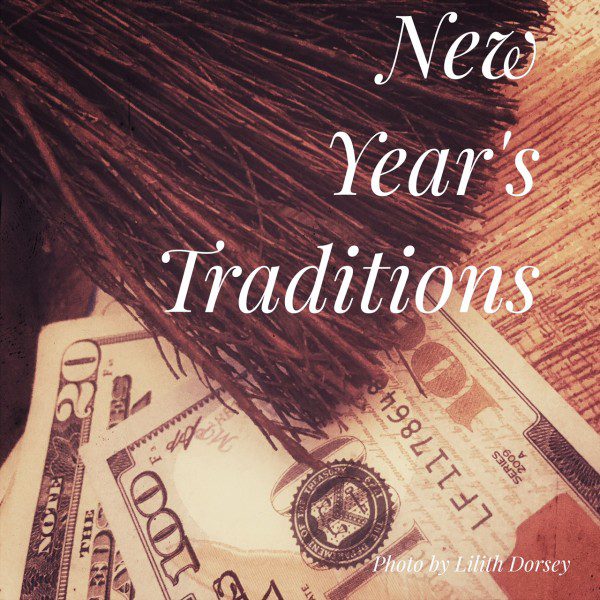 There are many different magickal New Year's Traditions that span the globe. It stands for many that this time of year represents out with the old and in with the new. So here is a list of my favorites. Maybe you will find some old friends and some new possibilities for 2017.
Open the doors and Come on in ! – In her post on Irish New Year Traditions Molly Muldoon writes how "at midnight, many would enter the house through the front door and leave through the back door for good luck."
First Foot or Gingers in the Back– Scotland also has several traditions about the first person who enters the house after midnight on New Years Eve. For good luck this is supposed to be a dark haired person carrying money, drinks, food and gifts. In my house my Grandmother had us continue the custom by sweeping money over the threshold and into the house. Yes, in case you were wondering, one year my Aunt swept the money out instead of in. She never heard the end of it.
Collards for Cash– No Voodoo or Hoodoo discussion about this time of year would be complete without talking about the traditional New Year's recipe for collard greens. This dish is served just after midnight. If eaten and prepared right, it is said to bring divine blessings of money and success. The shredded greens, which you are supposed to tear with your bare hands, are thought to represent dollars coming your way.
Mo' Money– For some people New Year's Eve is all about the Benjamins. For those folks here's my easy prosperity spell for the

Easy prosperity spell photo by Lilith Dorsey. All rights reserved.

New Year.

Light My Fire – Another part of Hogmany in Scotland, which lasts from Dec 31st to Jan 2nd, is the burning of ritual fires.
Kiss Me Once Again – Probably the most popular custom on New Year's Eve is as simple, and complex as a kiss. This kiss is supposed to set the tone for the New Year. Let's hope yours is epic, like the one from the finale of That 70's Show. Not epic like the one from the Godfather II with Fredo.
What are your favorite New Year's traditions and spells ? I'd love to hear in the comments below, and don't forget to keep sharing and caring ! Happy New Year !