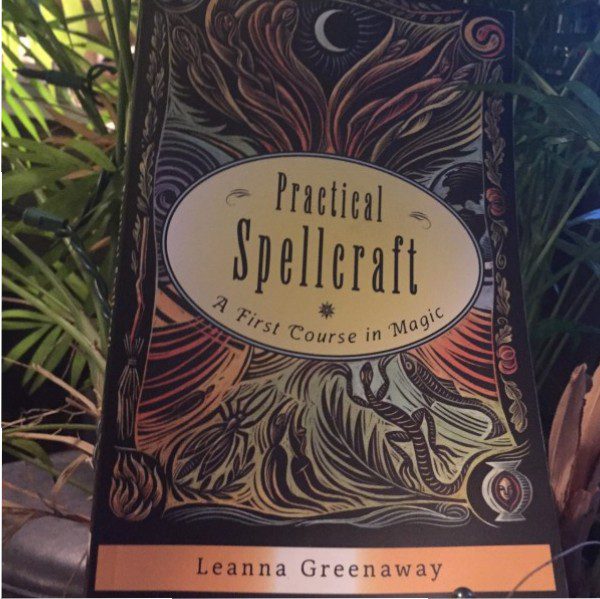 When dealing with Magic those new to the discipline can find it difficult to begin, Practical Spellcraft by Leanna Greenaway helps with every aspect of the process. She offers basic information on planets, moon phases, tools, herbs, and more. Then Greenaway proceeds to give us valuable spells for everything from Candle and Garden magic, to spells for money and health.
The subtitle for Practical Spellcraft says it is a first course in magic. It is published by Red Wheel/ Weiser who describes this as "a practical introductory guide for everyone…. With the wealth of Wiccan wisdom in these pages you can choose a spell to improve any aspect of your life." There are lunar dates and a planetary ephemeris to improving the timing and efficiency of your spells. Thankfully this is just the beginning of what you will find here.
I'm always a bit skeptical when I see books for beginning witches, but this book quelled all my fears and exceeded my expectations.
Practical Spellcraft
contains a wealth of interesting spells, but my favorite is the Unusual Use for Electrical Appliances. Greenaway is definitely on to something here, as she explains how to use appliances as magickal accelerators. This is something I have employed as well, but not something you hear too many witches talking about. She describes how she places a charged candle in glass on top of an electrical appliance, like a toaster oven. This speeds up the magic. Try it, remember not to leave it unattended, and let me know how it goes?
About the Author
For the past 11 years, Leanna Greenaway has had her own monthly column in Take a Break's Fate and Fortune magazine. As their resident witch, she answers reader's questions and offers quick and easy spells to combat problems. Greenaway is also the author of Simply Tarot, Simply Wicca, Come Away with the Fairies, and Wicca, Plain and Simple (with foreward by Judika Illes.) She is the co-founder of The Psychic Study Centre and lives in the south of England.
As always if you have enjoyed what you read here please remember to share, share, share !